September 26, 2012
I'm still finding it hard to believe that I am a shop co-owner and the fact that this all came to be in such an insanely short time period amazes me to no end! We're into our second week of business with our "Grand" opening happening this weekend and the tremendous amount of positive feedback and encouragement from our visitors, family and friends and surrounding community has truly kept us going, despite many exhausted moments. I promised you some pictures of our creative workshop last week so here they are, better late than never 🙂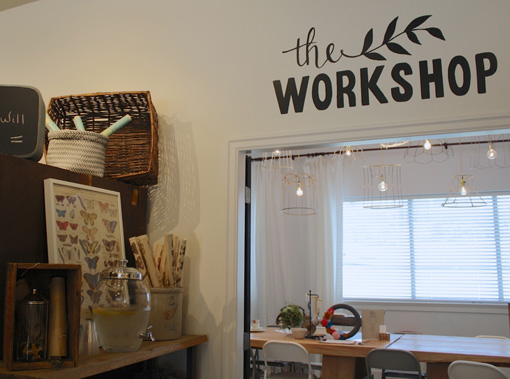 One of my partners, Jessica MacDonald of Trove Vintage Rentals, is the talent behind the lovely hand lettering and stunningly gorgeous display inside our classroom. In addition to being the hub of our weekly creative classes, we are so excited to announce that our workshop is available to rent for parties, events and photo shoots! It gets some fantastic natural light and my pictures are sorely lacking in featuring our show stopping harvest tables, custom made for us by Tack Woodwork & Design. They were hewn out of locally harvested Douglas Fir and people can't help but touch them when they walk into the room!
Our lampshade chandelier is just one of several ambitious creative projects this past month and, although it looked much easier on paper (and we were blessed with an extremely patient electrician!), we are pretty thrilled with the results. Although we have been asked more than once when we'll be making lampshades for it 😉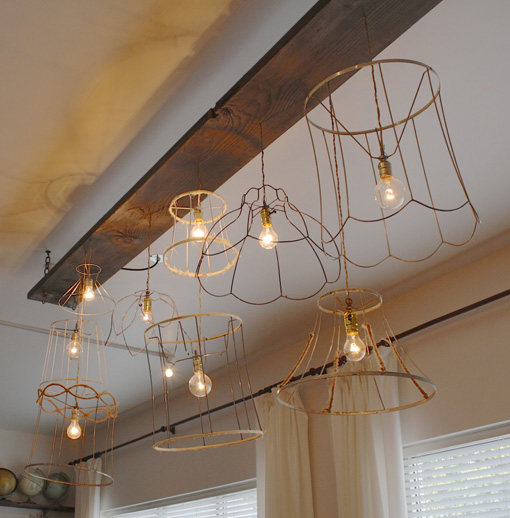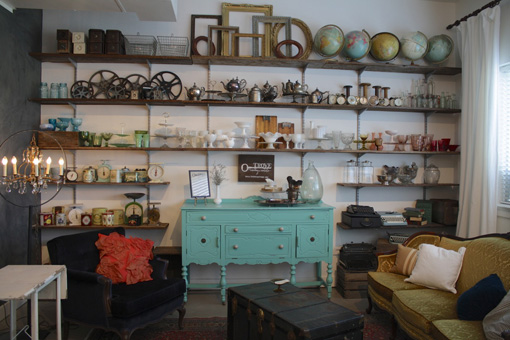 On the opposite side of our vintage rental section, the little kitchenette is made up of a vintage sink and base found at the Bellingham Re-Store and painted black, leftover barn boards from our store shelving in Ikea brackets (spray painted gold), an old Ikea island cart that I've owned for years, a used white fridge freshened up with a couple coats of chalkboard paint and a gilded mirror that I've had since high school (which started gold but has been painted silver, white and black in between). The matte black faucet is also from Ikea. Pretty cute, isn't it?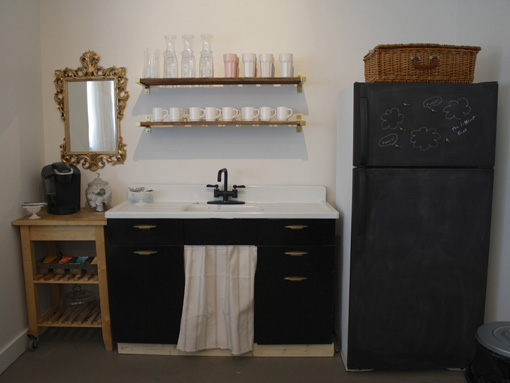 So that's our workshop! We've got some really great classes lined up for October and more on the agenda for November. Felted Wreath making, jewellery making, screen printing and a set of DIY painted mugs, just in time for Christmas! Yikes, did I say Christmas?! Yes, now that I'm in the retail world it's time to start thinking way ahead! I also snapped a few recent pics of the shop to share with you, as we've added quite a bit new product since opening day…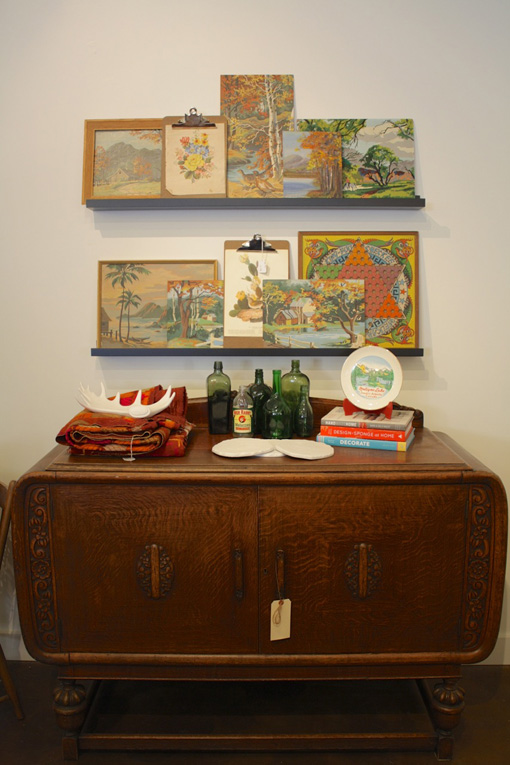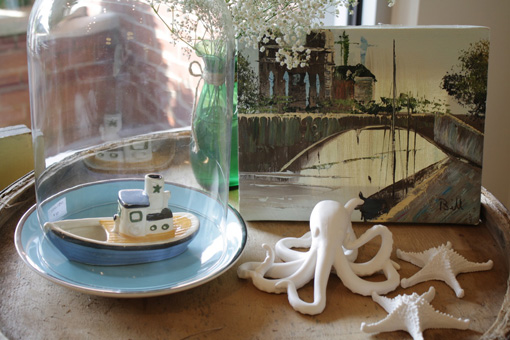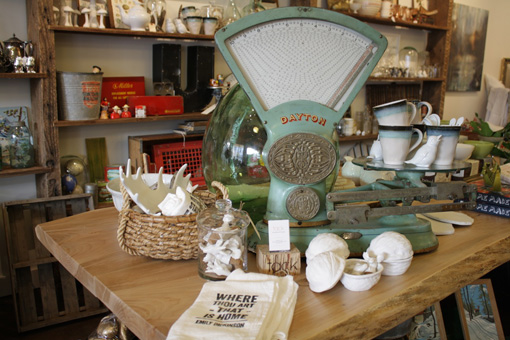 One space that we're extremely proud of is our kids room! Although storage was already at its premium in our shop, we sacrificed one of our small storage rooms into a sweet little nook for the young'uns to enjoy. While it doesn't have a gate (although request have been noted!), it does offer some distraction for little hands while mama shops.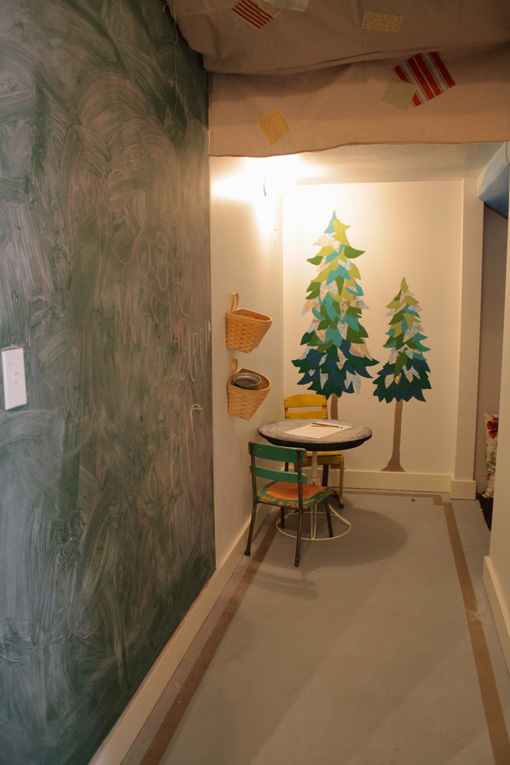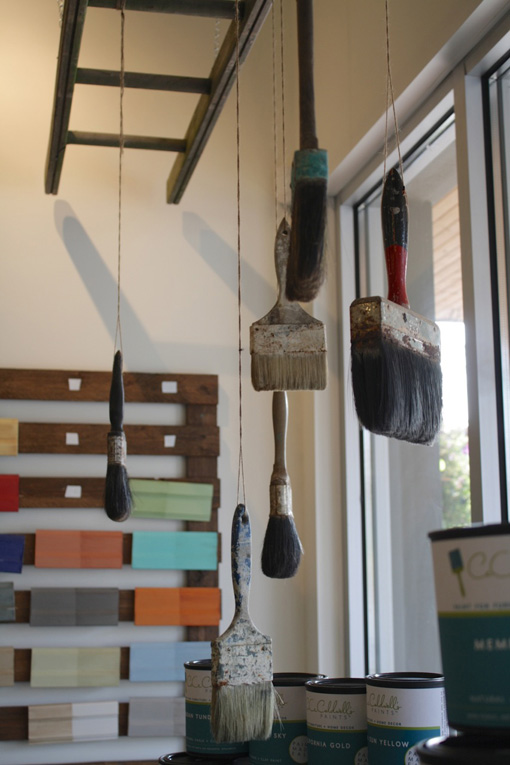 Our line of mineral paint by CeCe Caldwell has finally arrived and we can't wait to show product demos and offer classes in the very near future! Completely VOC-free, made of chalk and clay, this furniture paint comes in a beautiful array of 38 hues and is made in North America. It needs no sanding or priming to adhere and can be sealed with clear, satin or aged wax, depending on the finish that you'd like your piece to have.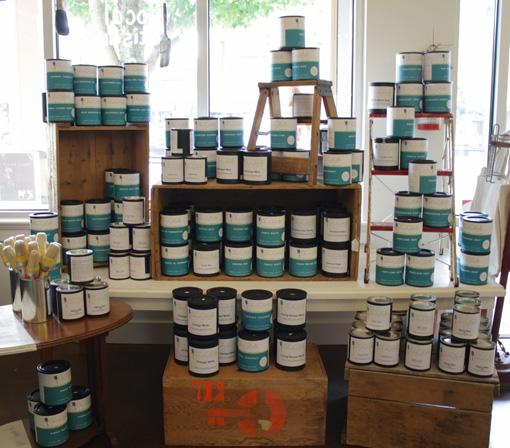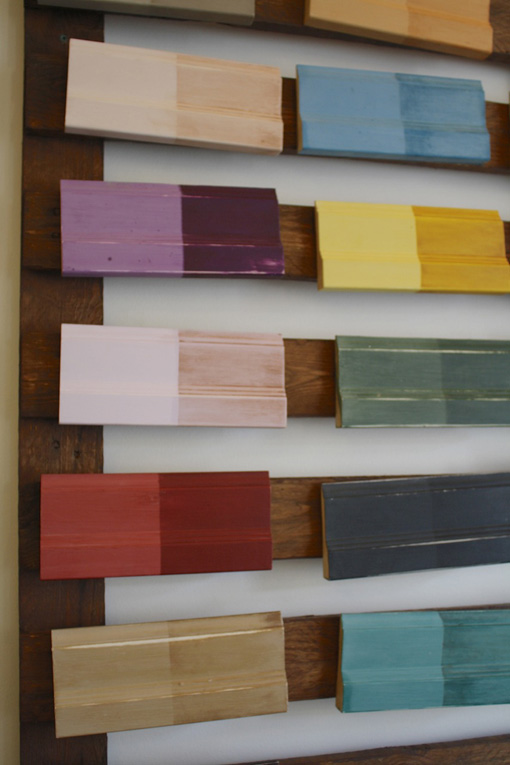 So there you go! Another little peek inside my new world of Spruce Collective! We've got a busy weekend ahead with a private opening party Friday night and our official Grand Opening to the public on Saturday. If you're in the neighbourhood, be sure to pop in and say hello! I'll be back to the blog next week 🙂