April 19, 2011
I'm with Rachel in her hopeful sentiments that this week will be a bit more relaxing than the last! Although I was very lucky to have a leisurely and sunshine-filled weekend in the city with some friends (with a 10km run in for good measure!), being sick and a little over-scheduled last week took it's toll. Hopefully I'll pull it together today but I felt like I was running late all day yesterday…maybe because I was! And I misread my son's soccer game's start time and he only caught the last 10 minutes of his game. Sigh. Can't win 'em all!
Easter is only a few days away and Rachel and I both agreed in a phone call yesterday (with a background of crying kids on both ends!) that we are pretty unprepared for the weekend festivities. My brood will be taking a little road trip to Kelowna on Thursday for a couple of nights with Brad's brother and family, which takes some of the pressure off but we will be returning home mid-weekend, leaving some room open on Sunday and Monday for church, Easter egg hunts and maybe an impromptu brunch of some sort. Thankfully, it doesn't take all that much to put together a pretty Easter inspired table. Flowers are key and boiling up a batch of eggs takes almost no time at all. You can get as creative as you like with the dying process but I think leaving the shells au natural is equally charming…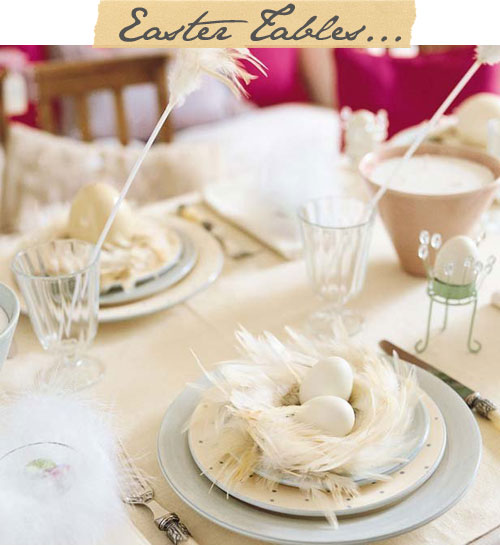 Red Online
Isn't this table designed by Gwyneth Paltrow for Remodelista gorgeous? So simple, with the perfect combination of rustic and natural textures with vintage silver touches. And I absolutely love the egg cup name plates…not to mention those plates!
Gwyneth Paltrow for Remodelista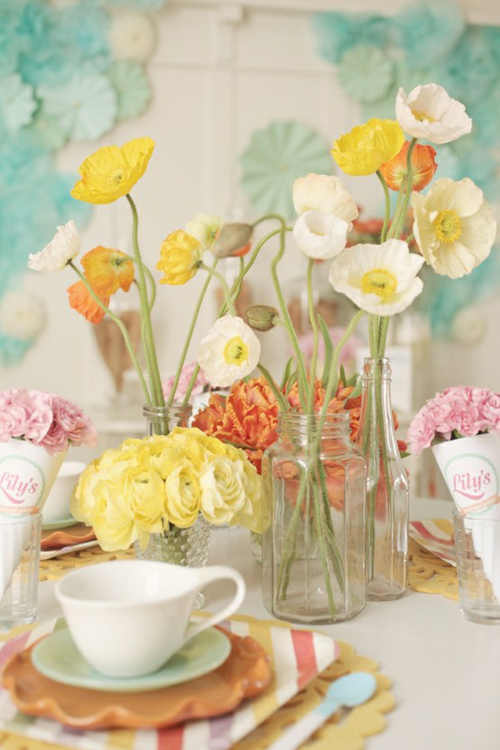 Ruffled
Isn't this tied fabric garland charming? Used here for a little girls party, I think it would look just as perfect strung up for Easter. And what a perfect way to use up those leftover fabric or ribbon scraps…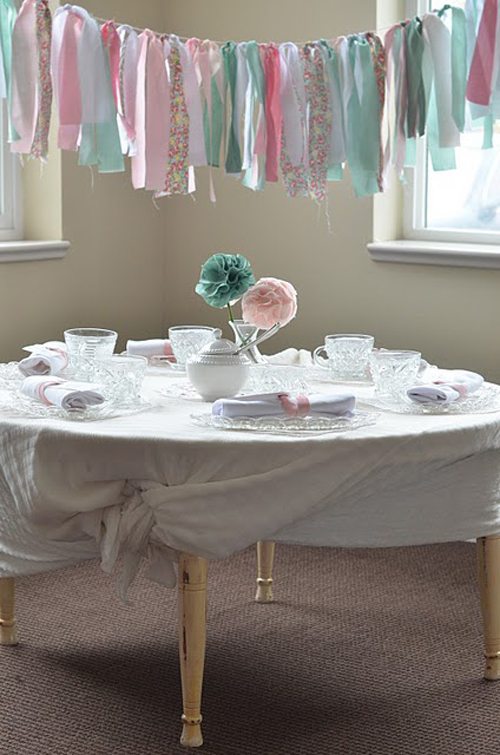 In the Hushed Hours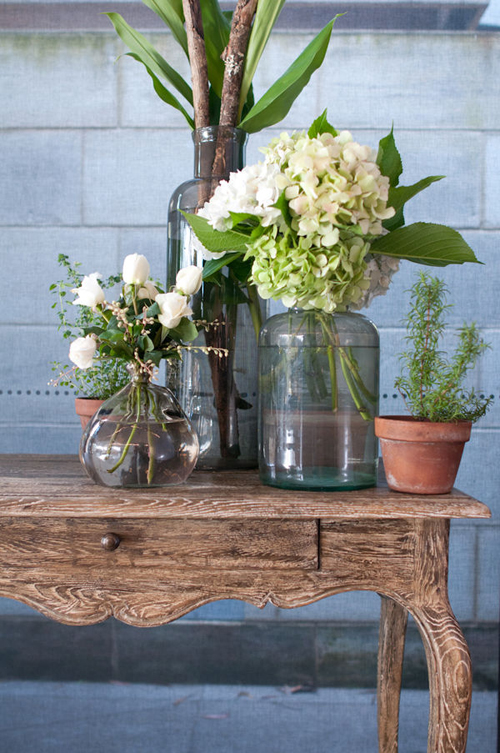 Style Me Pretty
I love  mismatched table settings and this pastel collection looks to have more than a few potential combinations that would be perfect for a Spring brunch. And look at all of those cake stands and tiered plates! I can picture delicious looking pasties stacked on them now…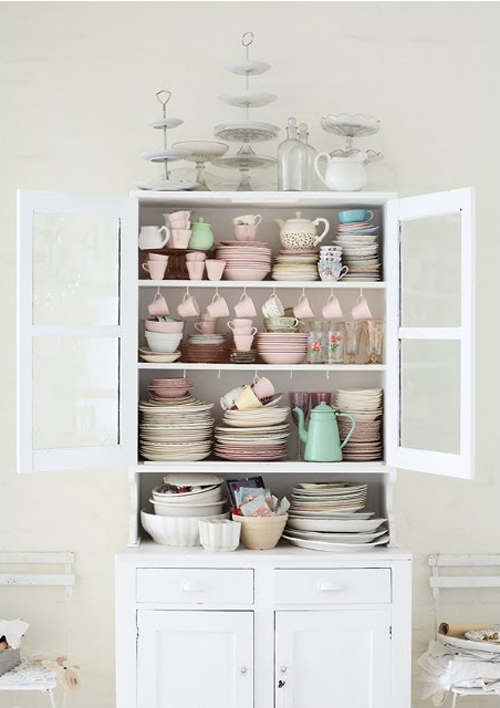 The Design Files. Home of Lyn Gardener, Empire Vintage.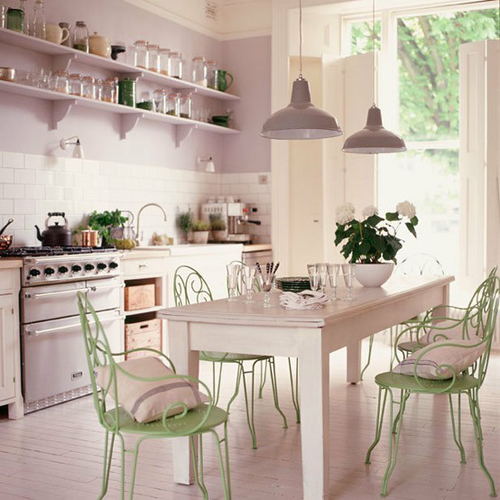 Red Online
Although we don't have a West Elm store here on the West Coast (yet), if I'd thought about it a little bit sooner, I likely would have ordered at least a couple of these Easter inspired lovelies…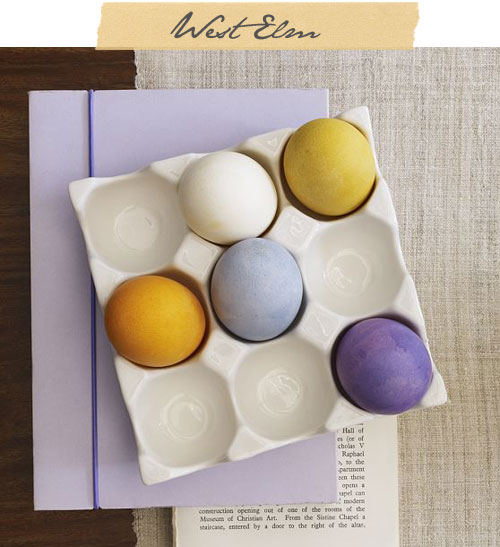 Egg Crate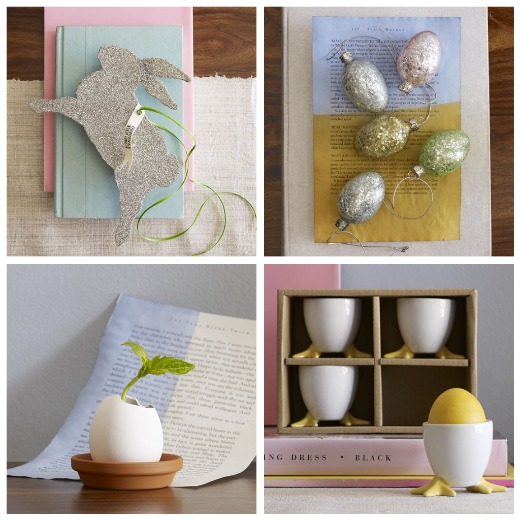 1. Bunny Ornament 2. Mercury Egg Ornament 3. Egg Hatch Plant 4. Egg Cups
I think I'll head outside and finally clip those dogwood branches and get cracking on some simple Easter vignettes. What are your plans for the weekend?