November 30, 2010
This weekend was the kick off for my holiday cheer, fa-la-la! My in-laws offered to watch the kids (and who am I to deny grandparents their grand-babies…), so I gladly obliged and as soon as they were safely away I shuttled myself off for a full afternoon of shopping. And I'm so very glad to get the worst of it out of the way. Just a few more gifts to sort out and I'll be able to take a deep breath, relax and focus on the important bits of the season. Family, the real meaning of Christmas, and traditions like baking and crafts galore.
Starting with this advent tree tutorial by Paige Russell that I found on one of my Pinterest wanderings. It was so easy to print out the templates and, although it took a bit of time to cut out and piece together, all I needed to buy were some small envelopes from Michaels and some Christmas candies (I also used up some stray treats from Halloween) and voila! Well, this isn't mine…I'll post pics of my finished product on my next post…but I was able to fit 3 treats, one for each of my kids, into each envelope and I know they'll have so much fun opening them!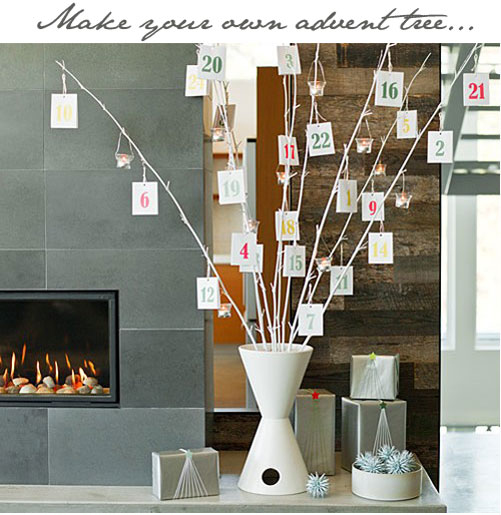 Photo by Thomas J. Story
Although I continually struggle to add more "simple" to my busy life, I couldn't help but catch the frenzy amongst sale-hunting shoppers in more than one store this weekend. Several of my Canadian friends crossed the line to dive into the Black Friday sales and they said they felt the same…so much hype around the sales and flashing lights but when it comes down to it, do you really need it? I find it as hard to ignore blow-out sales as the rest of you but I also can't ignore the continuous stream of items that are added to my Sally Ann bag almost weekly. So,  I'm going to take a big step back and try to enjoy some quiet moments like this…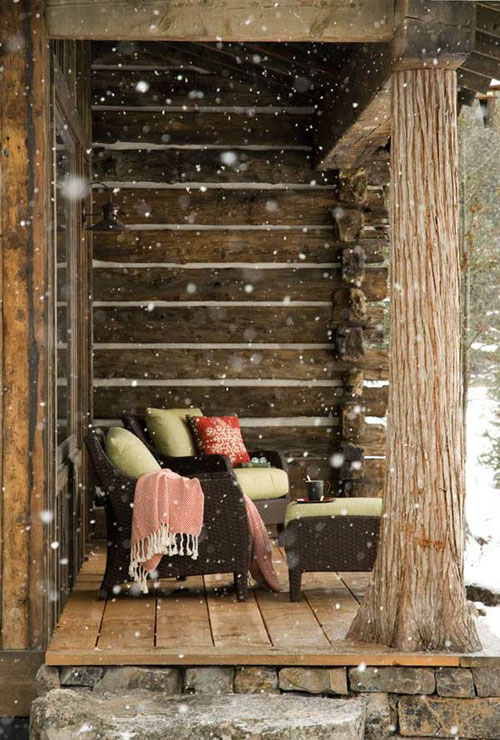 Country's Best Cabins, photo by Heidi Long.
Nothing says clean and simple like white. Some would argue that there's nothing simple about a flocked tree, and I would usually agree, but I love how this one was placed on a wood pedestal table with natural birch poles propped in the corner. And I think I'll always have a soft spot for whimsy touches like the ones on this all white mantle…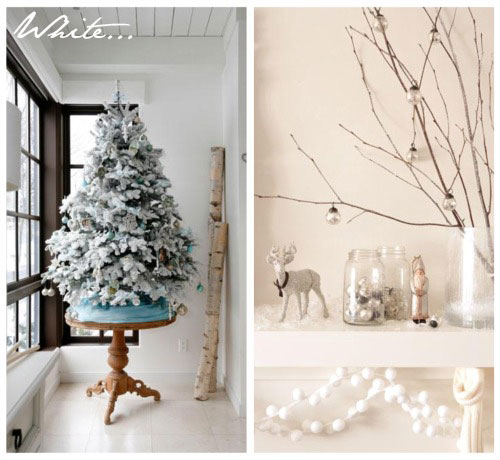 1. House & Home 2. House & Home
There's nothing like the smell of fresh pine boughs and greenery to conjure up Christmas memories. Rachel and I are each lucky enough to have homes nestled amongst tall evergreens and, thanks to our recent windstorms, there are many a twig and branch ready and waiting to be put use like these…

1. Better Homes & Gardens 2. Sunset 3. Sunset
From a rustic log cabin to a more modern space, simple touches like woolen socks or bright bunting add festive touches to any design style. I love the how effortless and lovely Ez's pinecone and deer look under glass…equally at home in a farmhouse or a sleek loft! Her 5 minute tinsel wreaths (here) are pretty great too…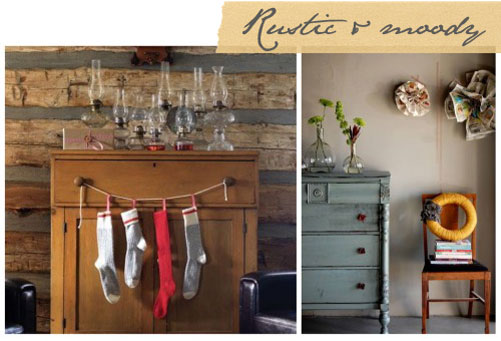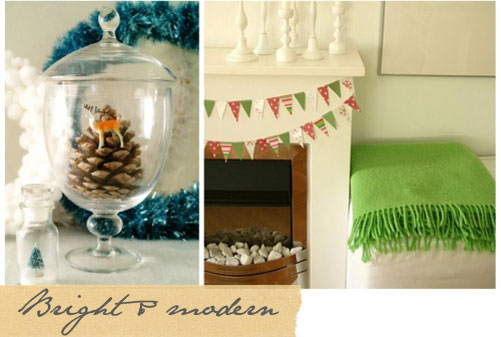 1. House & Home 2. Design*Sponge 3. Creature Comforts 4. Lipstick on Your Teeth
A little known fact about Rachel and I is that we lived in the same apartment complex when we were first married, long before we'd ever met. And our starter homes were each 2-storied townhouse style units featuring loft bedrooms and  Jetson's era wood burning stoves, very similar to the one below! My hubby and I loved lighting fires at night…there's nothing better than falling to sleep listening to wood crackling! I would gladly cuddle up on the chair in this light filled room. The holiday decor is so simply Scandinavian!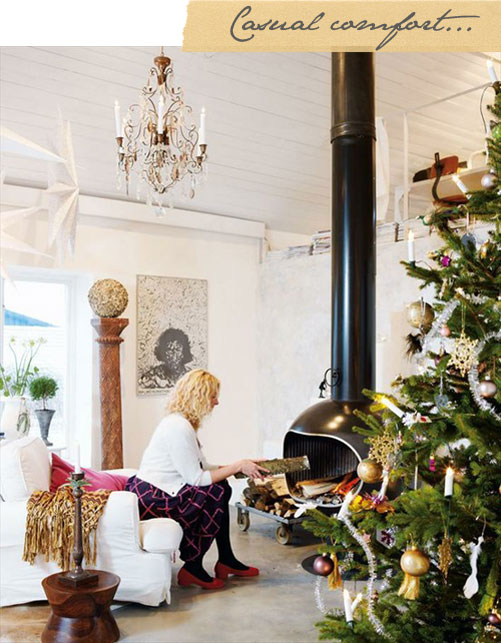 Hus & Hem
Thankfully, retailers are catching on and there are a wide assortment of naturally simple holiday ornaments and decorations readily available. Mixed in with the right amount of glitter and splashes of red, little extras like these from Terrain and Toast bring the finishing touches to my favorite Christmas decor scheme…
1.Tree Skirt (no longer available) 2. Birdhouses 3. Glass Owls 4. Felted Mushroom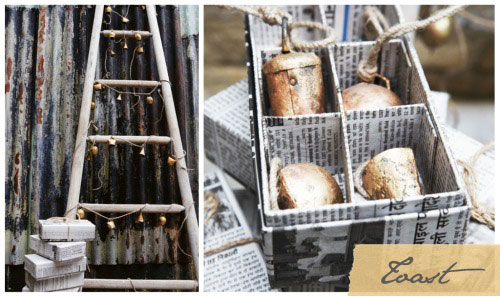 1. Miniature Cowbell Garland 2. Cow Bell Tree Decorations
Last but never least, Etsy is always a goldmine of handcrafted treasures and she didn't disappoint me tonight! I put together a treasury featuring neutral finds with some dashes of red thrown in for festive good measure and I'm really liking the colour combination. I've made several Christmas purchases on Etsy this season and there's nothing better than receiving those lovingly packed packages in the mail…so much better than having your purchases thrown in a bag by a frazzles sales person! Never made an Etsy purchase before? No worries, follow the easy steps found here.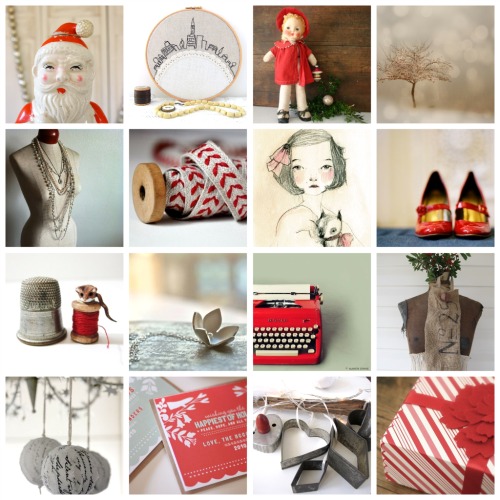 Top Row: Shaving Kit Supplies, Three Red Apples, Open Door Studio, Lucy Snowe Photography 2nd Row: Miss Annie May, Petits Details, Holli, Lonny 3rd Row: Doodle Birdie, Kathi Roussel, Skippy Designs, Funkyshique Bottom: Quotes and Notes, Spread the Love, French By Design, Eclu
Thanks for reading!