October 3, 2010
It's no secret that Rachel and I love, Love, LOVE vintage bottles, especially apothecary style ones! It seems that many of you love them too…our aqua glass sells almost as soon as we list it in our shop and we've had several bulk requests for wedding centerpieces over the summer. There's something about the sea glass colours, peeling labels and the mystery of the curious concoctions they once held that just tugs at our heart strings…do they do the same for you? Here are a few new pieces that we were so happy to stumble upon on our last shopping journeys…

1. Rusty Bottles 2. Aqua Bottles 3. Apothecary Bottles
Although I'm happily married, if I had to do it again, I would definitely use as many vintage bottles as possible for my table settings and decor! Amy's surprise wedding, seen on her blog Eat, Drink Chic was so simply beautiful and the "floating" vases would be easy to incorporate into many party themes and decor. For affordable flower arrangements, use cuttings and greenery from your own garden (or a friendly neighbor's!) or buy an inexpensive bouquet on your next grocery run and break it up into groupings of like colours. Even carnations can look good when grouped as a single hue!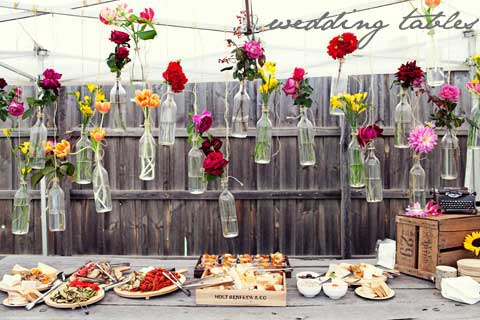 Displayed in groups for table centerpieces or scattered on dessert tables, vintage bottles used as flower vases bring an understated elegance to casual backyard affairs and a touch of romantic whimsy to more formal events. We think they look best in larger groupings, with a broad range of colours and sizes…what do you like best?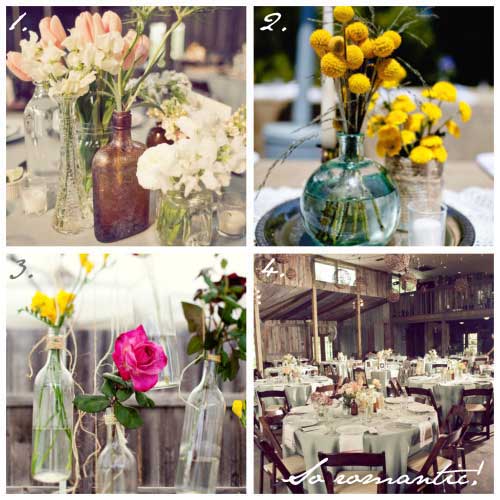 1. Style Me Pretty 2. Ruffled 3. Eat Drink Chic 4. Style Me Pretty
Leslie Shewring's latest Colour Me Pretty column over on decor8 captures the beauty of vintage glass so well! You can see more of her stunning photos and colour ideas on her own blog, A Creative Mint. Did you know, purple glass is the result of manganese added by glassmakers? When exposed to ultraviolet rays, the glass gradually turned purple. Manganese was used from around 1880 to around 1915….thanks to Martha for the info!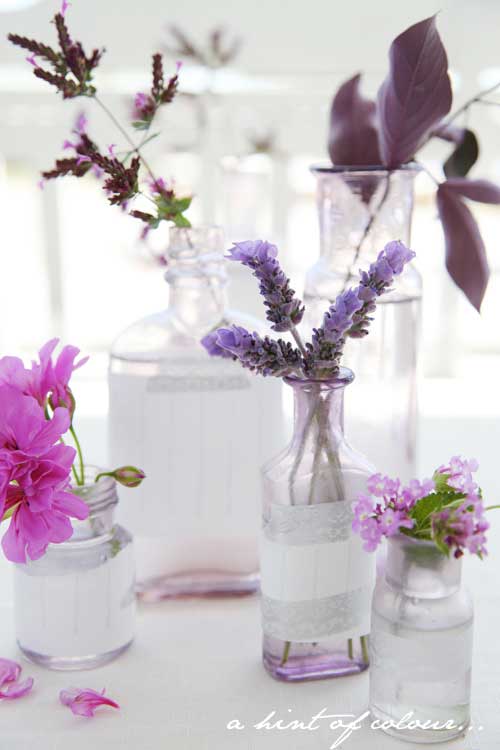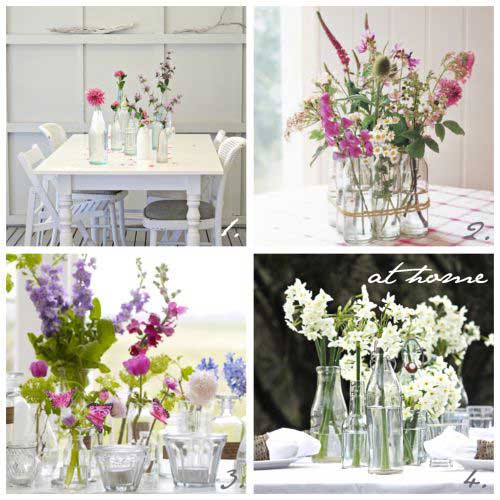 1. A Beach Cottage 2. Country Living 3. Pale and Interesting 4. A Beach Cottage
There are so many ways to use vintage bottles in your own home decor. Halloween's the perfect time to inject some spooky Poison bottles into the mix! And the holidays are just around the corner…why not try incorporating some similar displays for your harvest tables?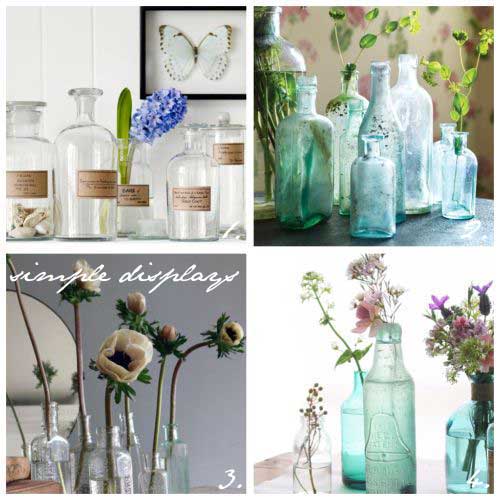 1. Pale and Interesting 2. House and Home 3. Credit Crunch Bride 4. Eat Drink Chic
One final note… cleaning bottles that have been sitting in dusty old barns for decades is no fun! We've tried plain old soap and water, baking soda, vinegar, bleach, the dishwasher and, of course, scrubbing our hearts out! But this cleaning tip found on Martha Stewart looks very promising and we'll be sure to try it on our next batch of barn finds!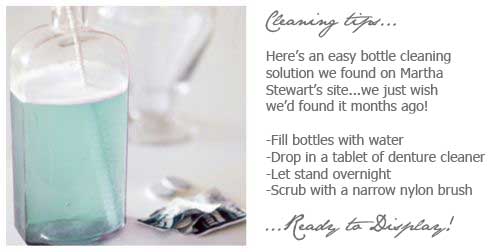 We'd love to hear how use vintage bottles in your own home decor…thanks for sharing!