February 24, 2011
I was beyond thrilled yesterday to see that the lovely Jen Ramos of Made By Girl had featured my home on her blog! I'm a big fan of her typographic prints and Jen contacted me a little while ago, after reading this post, asking if I'd like to send over a few more pictures for her to possibly include on a future home tour. As you can imagine, I happily obliged (more like kicked the kids outside, cleaned like mad and made the house look how it does when I'm home alone for a day!) and I was so excited to see the photos up and running on her lovely site! So many of Jen's readers left such kind and flattering comments and it truly made my day…make that my last two weeks, after the ongoing bouts of coughing and colds going on over here! So I thought I'd share the photos with you as well and give a little history behind some of my favourite junk finds. As you can see, anything vintage rules the roost around here but I think it's important to have a nearly equal amount of new items mixed in to keep things feeling like Grandma's basement.  I'll do my best not to point out the things on our renovation list (*cough*the too-light laminate floors to hardwood*cough*) and please feel free to ask me about anything I don't mention…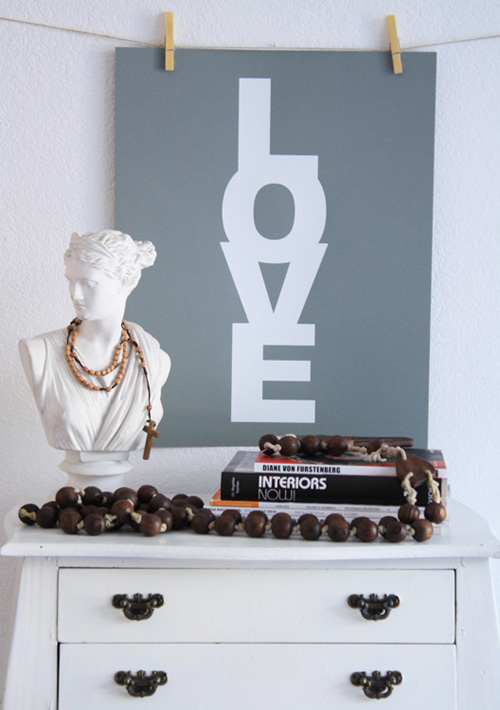 Made By Girl
This is my little work station, where I spend quite a bit of time most days. It's tucked into our Living Room, for lack of a better space, which actually works out really well for working amidst all 3 of my kids, husband and dog. I'd get pretty lonely otherwise! Our living room has big windows, nearly floor to ceiling, looking out to both the front and back yards so I get to sit in patches of sunshine now and then as well as keep an eye on the kiddos when they're running wild outdoors. Rachel and I found the chair at a local antique shop on sale and I started refinishing it last summer but got lazy and decided that I liked how the raw wood looks so that's how it has remained. The desk I found several months ago at the local Bibles for Missions thrift shop…half price for $30!!! It's solid oak with dovetailed drawers, cool built-in dividers and extra work space boards that slide out at the top of each side. Score!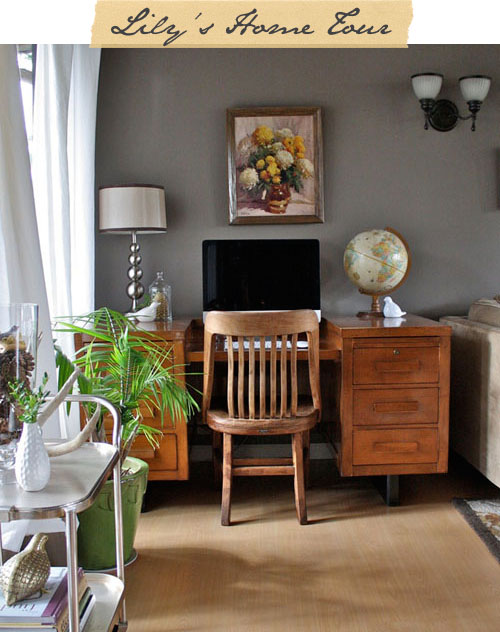 I had several people ask me about my coffee table after Jen's post…it is another one of my top finds! I had seen it on a Sunday afternoon wander through our favourite junk barn with my family but hemmed and hawed and left it behind.  When I couldn't stop thinking about it, Rachel joined me to hunt it down.  After some searching (the legs had been folded and it was stashed under a table piled with random junk), we came upon it, covered in bird poop and grime and I paid a whopping $40 for it (which I truly thought was way too much at the time!). Rachel later sent me a link to an online antique auction for a nearly identical table priced at $2600….woo hoo! The couch, rug, pillows and throw were all purchased new at some point and the majority of the art is thrifted, except for the bird poster which is actually a piece of wrapping paper that my sister gave me for my birthday one year. The hope chest was refinished by my mom and given to me on my 13th birthday…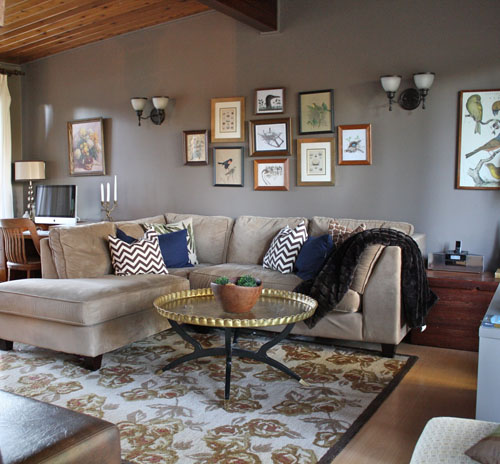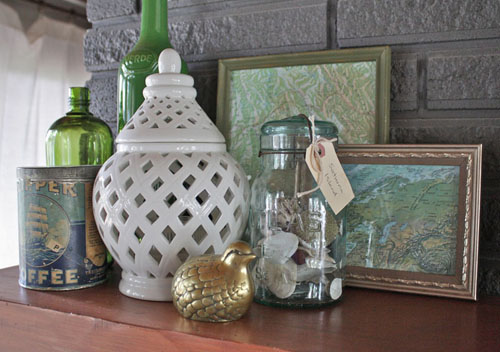 My mantel decor changes almost weekly, depending on my mood and what new finds we've purchased for the shop. That's one of the bonuses of owning a vintage shop, we get to enjoy our vintage treasures until somebody else decides to purchase them! The jar of shells are from a favourite family holiday to Saturna Island, BC with my side of the family last summer. The previous owners, who also happen to be friends of ours, had the fantastic idea of of upholstering the slate fireplace bench in faux leather. Safe for little heads to bump into, the perfect spot to warm up on a cold day and ideal for extra party seating…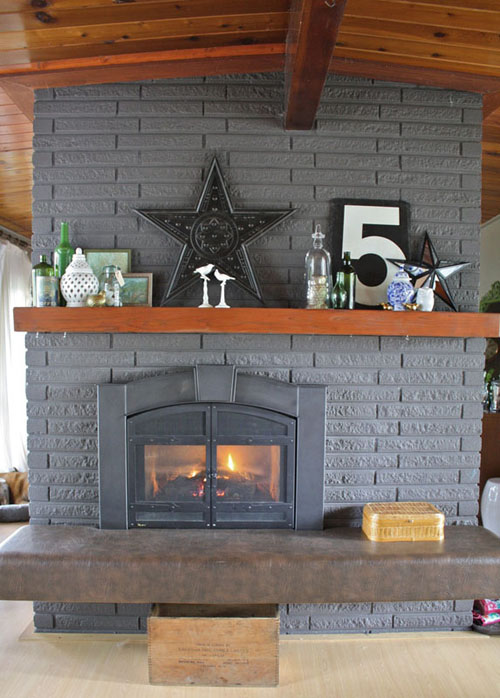 The original fireplace brick colour was an odd salmon pink with sparkles throughout it and was one of the first things to be painted after we moved in. The walls were already the dark taupe colour so I chose to paint the brick charcoal, a choice I've been really happy with. We replaced almost all of the lighting in the house as the cedar ceilings make things look pretty dim in the evenings.  I've had the mirror since high school and it's been painted many a colour since it's original gold. I found the table at MCC almost 4 years ago and loved the claw feet! It was an '80's orangey oak stain so I gave it a few coats of black paint. The bentwood chairs are Craigslist finds and were made in the former Czechoslovakia…another score! I bought the cowhide rug off of ebay years ago and it has stood up to anything that's been thrown at it…literally! From red wine to spaghetti sauce to other unmentionable things left by toddlers, it equals wool in how easy it is to clean without staining.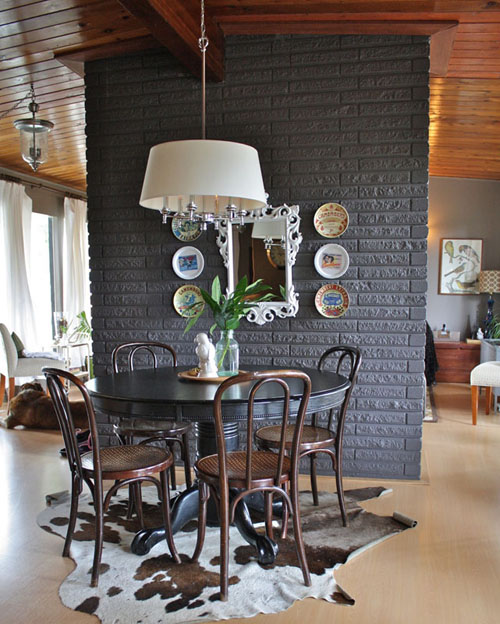 This battered dresser in our master bedroom was found on a spontaneous trip to the antique shop a few years ago. Brad and I were in the midst of crazy renos at our last home and were literally down to the last couple hundred dollars in our bank account…which just happened to be the price of this weathered beauty! He was horrified, to say the least…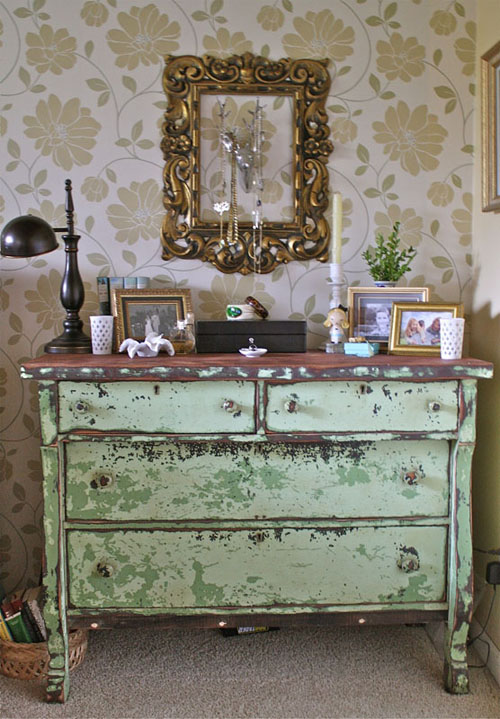 Thankfully, my man gives me full reign when it comes to decorating but he couldn't refrain from a few eye rolls while helping me hang the gallery wall in  our room! Almost all of the art is thrifted and several are old book pages. When I was 18, I bought the large Michelangelo print at the Vatican in Rome and  it travelled halfway around Europe strapped to my backpack, getting lost in random train aisles more than once!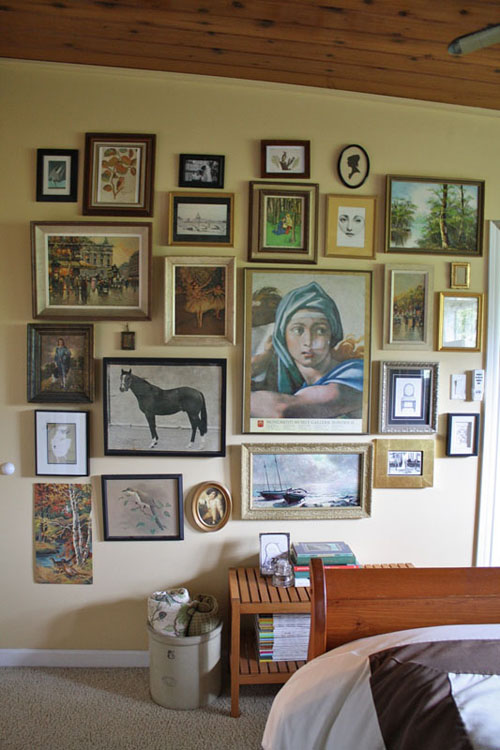 Our son, Gabe, is into anything skateboard or hockey related but I managed to fit some vintage Atlas pages and other finds, like Donald, into his room as well. The desk was mine when I was a kid and the Little Prince Illustrations were made by my dear friend Julia as a shower gift when Gabe was born.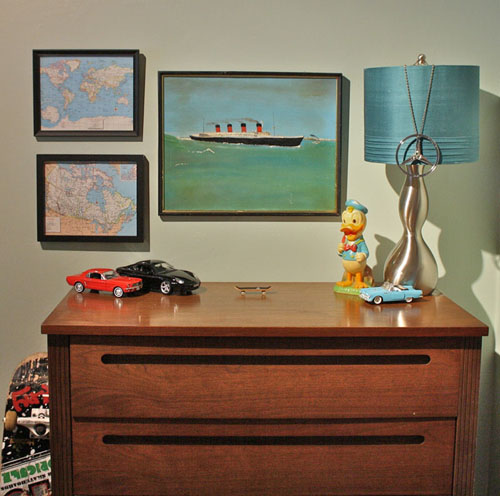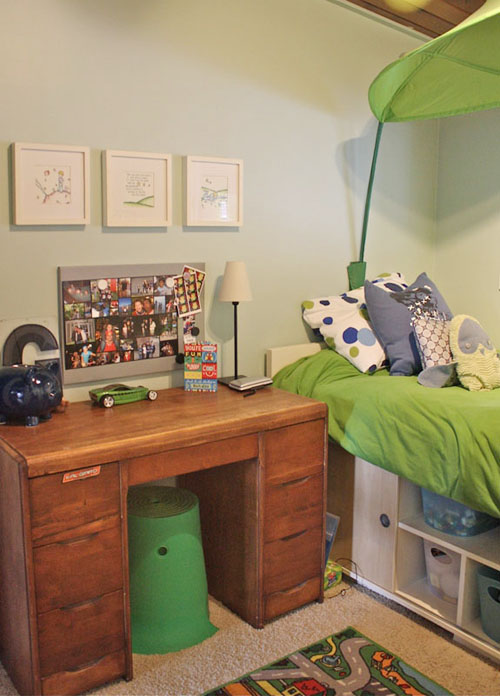 And, I've already showed you pics of the room shared by my 2 daughters, Sadie and Lilah, but may as well keep them in the family for this post! The wood bed is one of a pair made by my great grandfather from a fallen tree on their property and the dresser is from another antique store in town. My mom bought the little antique roll top desk (you can only see the side, by the doorway) at a garage sale years ago and refinished it in the hopes of one day having grandchildren…lucky me!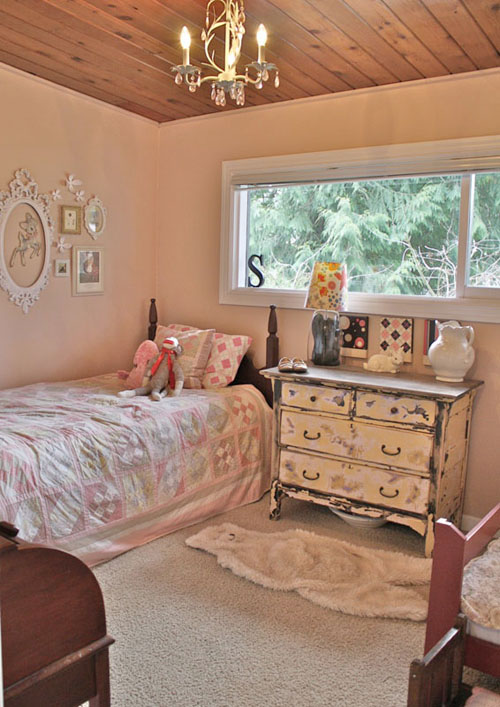 Well, that ended up being a lot more lengthy than I intended! Hope I didn't bore you with the history of our stuff…have a wonderful day!