February 7, 2011
With Valentine's Day just around the corner, I thought I'd lighten up a little this Monday and spread some love. I did some Etsy browsing and came across a pile of gifts for the ladies, today.  So, for our readers who happen to be men, (I'm certain that we have at least 2 on occasion) here are a few hints for the lady in your life.  If you happen to be the lady, enjoy.  You have my permission to purchase a Valentine's Day gift of your very own, if you find something you love and tuck it away for later.
Jewelry is a classic gift of love and I don't think you have to shop in the 3 months of hard-earned salary price bracket to find something nice and fun.  We've mentioned len&len before and A.J.'s shop is worth mentioning again because all her pieces are stunning, unusual and well-priced.  These modern bangles could easily take a lady to work and then out for an evening of dinner and dancing.  Or how about something a little cheeky like this corset ring by Silver Acorn Jewelry?
1. len&len 2. Silver Acorn Jewelry
I've loved all the fancy knitted or crochetted scarves that Etsy crafters have been making this winter season.  Being warm is a high priority during these cold winter months and this charming red Candy Scarf would certainly do the trick.  Paper art is quite popular right now and sarah & bendrix has a lovely selection of sweetheart art for display year round.  Not just for Valentine's Day, Veronika makes lovely birth and wedding date keepsakes.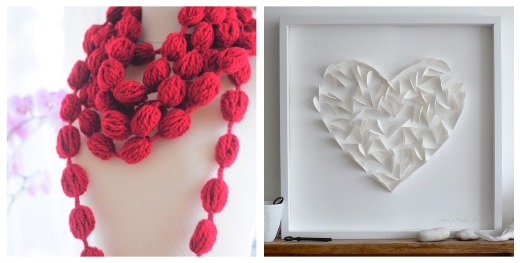 1. ottoknits 2 .sarah & bendrix
Have you done any clothes shopping on Etsy?  I haven't yet, I'm a little nervous to be honest.  But that hasn't stopped me from window shopping.  I love all the drapey, wrap style sweaters, dresses and hoodies.  This dainty little woolen number by Sandmaiden is what I'm talking about.  An extra layer of warmth for the rest of winter and a pretty cover up for Spring and Summer.  And how about a cute red clutch and a shiny chocolate covered cherry necklace to go with it.  Only one word for the undies…hot.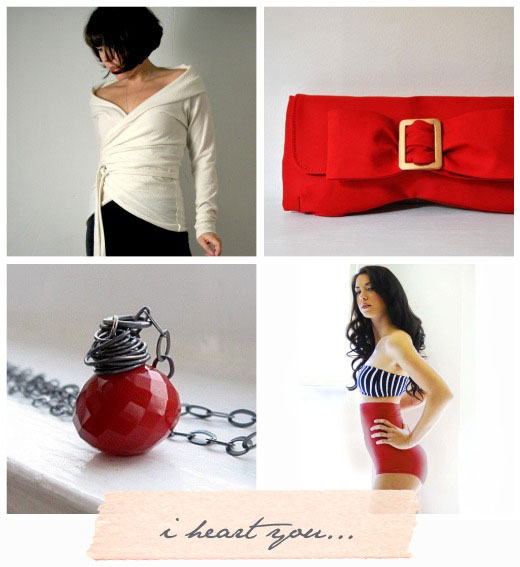 1. Sandmaiden 2. Cook You Some Noodles 3. The Jewelry Chateau 4. Twin Syndrome
I should just go ahead and buy one already…I just love the felted soaps.  SoFino's soaps are so carefully crafted and they are eco-friendly too.  For a special fragrance that will linger all day long, 40notes offers a collection of luxury perfumes for you to choose from.  For those, like me, who may be hesitant, there is a generous sampler of Miriam's whole collection.  Alexandra Ferguson has ohhhh…about 5 pages of sassy pillows for your home.  She has many more pillows to choose from that just might put you in the mood for Valentine's day.

1. SoFino 2. 40notes 3. alexandra ferguson
Personalized gifts just bring up the thoughtfulness factor up a knotch. Don't you think?  This simple wedding band crafted by tinahdee, says it all.  I love the rustic look of all of her jewelry.  You could tuck that special ring into this frilly purse made by Banyan Hippo. I think it's sweet and would look great with a brand new pair of skinny jeans and flats for Spring.  My Grandma had a family ring with all the birthstone's of her children and I have always loved that idea.  Etsy jewelers have come up with their own updated versions and this charm necklace is a good example.  A lovely gift for mommies.

1. tinahdee 2. Banyan Hippo 3. Under Her Charm
And of course, there is always chocolate.  Right?  Calabasas Candy Co. has luxurious sweets.  Go ahead, look and try not to drool…