November 10, 2010
I don't know about you, but this year's time change hit me hard. I'm a night owl by nature so of course I've taken advantage of staying up an extra hour later each night. My children, however, are early birds and have ignored the clocks completely! That, combined with the sudden onset of blustery dark and wet weather in our corner of the world has had me thinking of ways to add some colour and life to our home. Now, I'm no green thumb, but I've been coming across so many terrarium inspired goodies lately…check out my latest Etsy treasury here…and I think they'd be great little gifts to make with the kids for teachers and  grandmas or even to bring as hostess gifts to some of the holiday soirees coming up.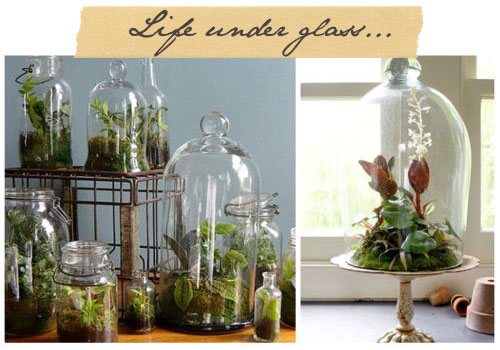 1. Katy Elliott 2. Better Homes & Gardens
I stumbled across Twig in my Google journeys last night and I think their small mossy worlds are so amazing and funny! They're based in Brooklyn, New York and, like Rachel and I, Twig is a collaboration of two friends who create "moss terrariums and other small worlds in antique, vintage, and new glass containers, apothecary jars, science glass, kitchenware, and any odd glass objects we find on our travels." Right up our alley! Here are some of my faves…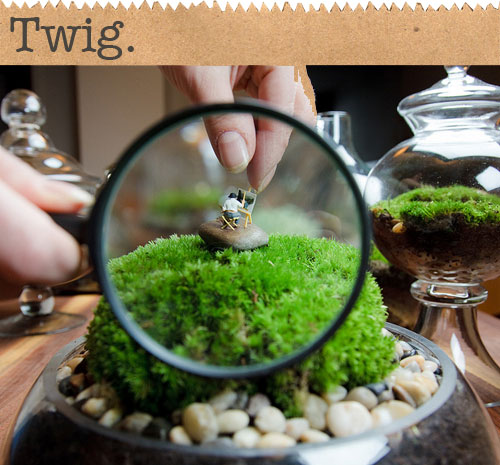 Twig. Photos by Robert Wright
Etsy's love of terrariums knows no bounds…they seem to be up there with moustaches right now! But I suppose it is Movember…Anyway,  Doodle Bird Imaginariums is a darling shop of unique terrariums and other little curiosities that I found while putting together said treasury last night. I love so many of Patricia's little worlds and creations, especially the moss in vintage thimbles and vintage jars…aqua glass always makes us weak in the knees! Aren't the fox and owl so very sweet?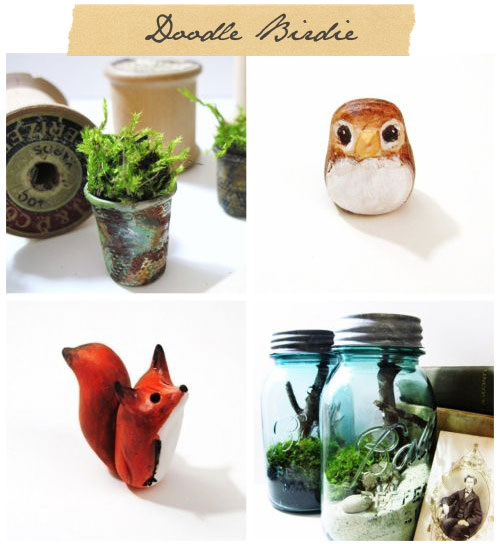 1. Thimbelina's Miniature Garden 2.Tiny Tim Owl 3.Tiny Red Fox 4. Bell Jar Terrarium
Poppies & Posies is a boutique floral and event design firm, another talented duo based in New York, and I think this terrarium inspired photo shoot that they designed with other NYC vendors is beautiful beyond words! Wouldn't similar centerpieces look gorgeous on your holiday tables? And don't get me started on the bouquet made of succulents…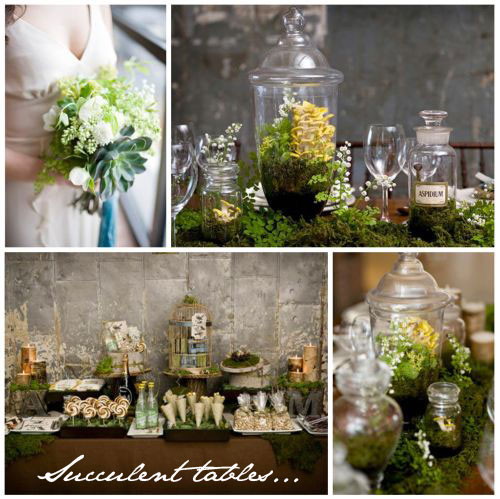 Photography by oh darling! via Once Wed
I "borrowed" some hens and chicks from my mom's garden and I have some tiny sedum sprouts left in my own that I plan to use for a little terrarium project with the kids on Thursday, Remembrance Day. Rachel has loads of moss growing in her backyard ravine that I just might have to scout out and add to the mix. I like the idea of a herbarium in the kitchen too. The only magic ingredient that I'm missing is charcoal to absorb any decaying matter…but I'm told it's available at most nurseries. Here are a few easy diy tutorials if you'd like to attempt to join me in building your own terrarium…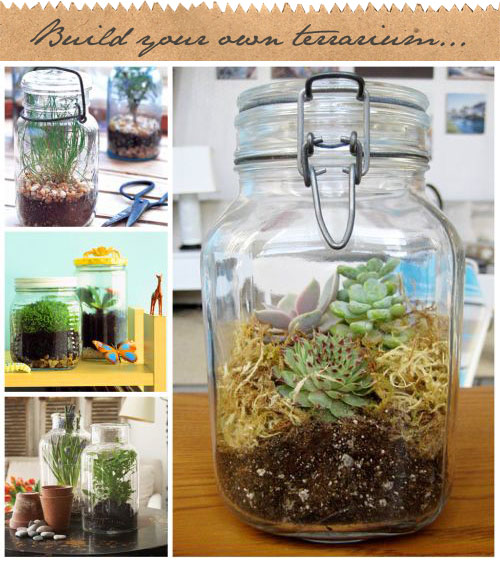 Left, top to bottom: Better Homes & Gardens, Martha Stewart, House & Home Right: Apartment Therapy
Once again, Terrain has proved itself a fabulous source! I found it hard to choose from their wide range of terrariums, most were within budget, and I think they'd make great gifts for the green thumb on your Christmas list…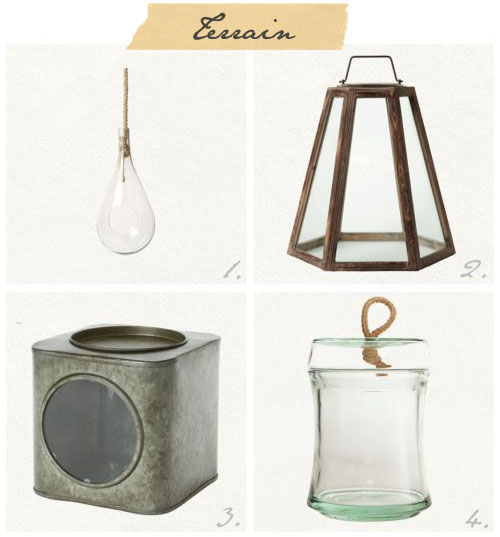 1. Hanging Drop 2. Handled Hexagon Cloche 3. Metal Window 4. Glass and Rope
Hope these inspire you to cultivate your own indoor gardens and I'll be sure to post some pics of what the kids and I come up with later in the week. Until then…