February 2, 2011
Like Rachel, and many of you out there, I am so ready for summer. Being spoiled by a week of warmth on the beach didn't help matters much, especially coming home to frosty temperatures! Thankfully, the last couple of days have brought sunshine our way, although without much warmth. The colour yellow, however,  is guaranteed to bring warmth to any space. It's no secret that Rachel and I love yellow, especially when paired with grey and white. And without really realizing it, I've gradually been inserting small and subdued doses of yellow into my own home via the aged bronze patina of my coffee table, vintage art and assorted tins. Even my rug has mustard tones woven through…
For the more fearless decorators out there, go big and make a statement with a large piece of furniture or boldly painted yellow walls. Greater impact is also created by grouping multiple items in the same hue. Mustard and lemon yellows were very on trend mid-century so be sure to scour your local thrift stores for that special something…or somethings!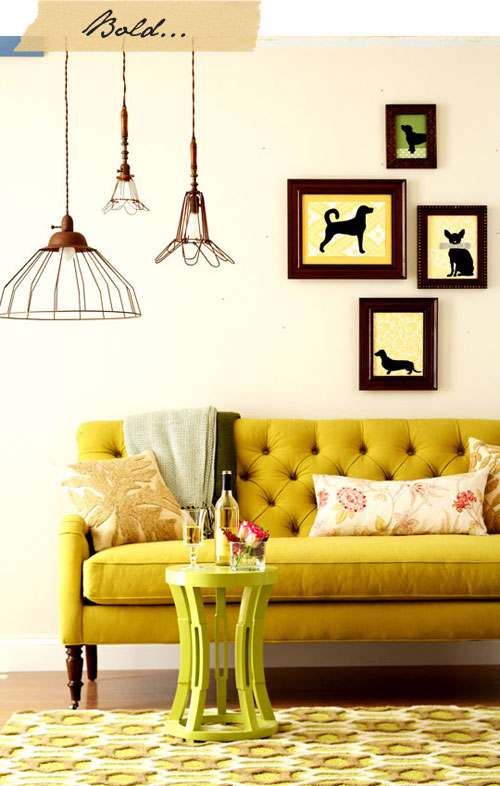 DIY Ideas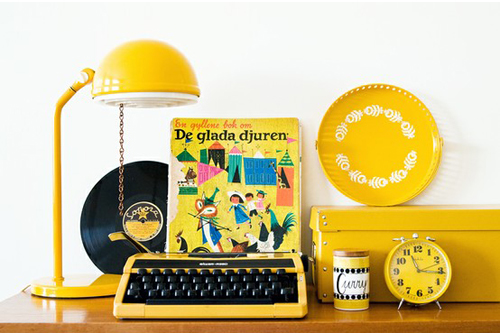 Hilda Grahnat
For a lighter touch of sunshine, go for gold, camel or sand tones. Paired with black, white and grey the overall effect comes across as neutral, warm and relaxing.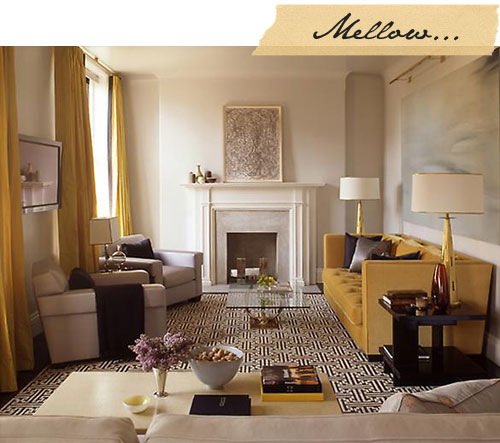 S.R. Gambrel
Hus & Hem
Pillows, throws and flowers are always a great starting point when experimenting with new colours in your space. In each of these pictures, nearly any other colour could easily be substituted for yellow and still look just as fabulous. Isn't this simple arrangement by Leslie Shewring of A Creative Mint lovely? I love having fresh cut spring flowers on the table…tulips are my favourite for the season and I already saw some daffodils at the grocery store today.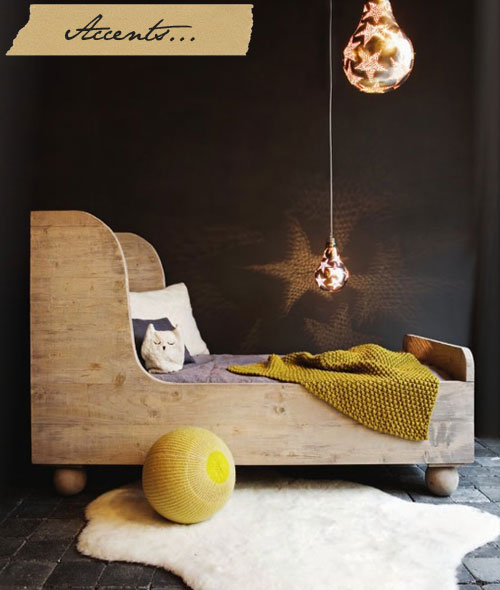 Milk via Madame Herve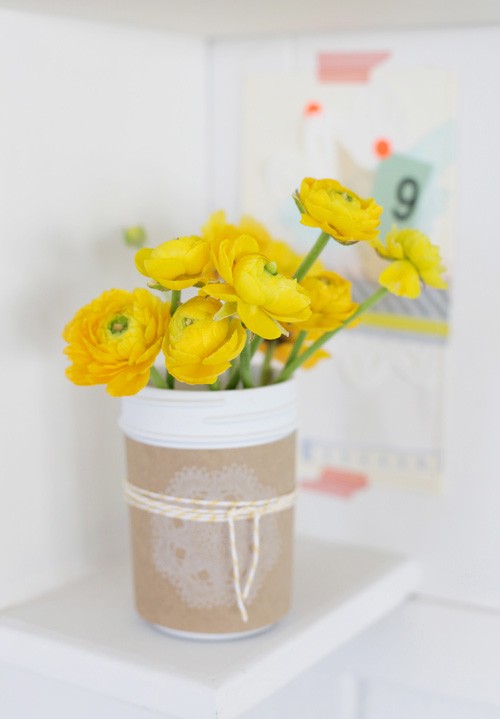 Photo by Leslie Shewring for Decor8′s Color Me Pretty Column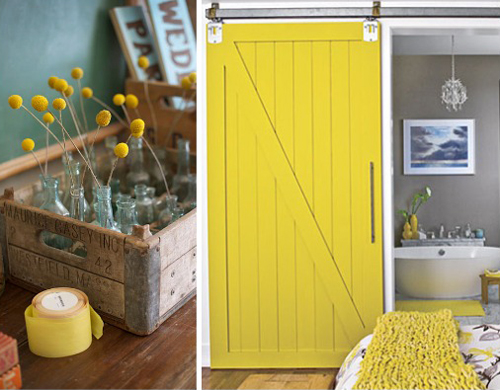 1. Design*Sponge 2. Southern Living
By the name of canary, lemon, mustard, butter, or saffron, yellow never fails to inspire me with happy thoughts and memories of sunshine when the skies aren't so bright. Etsy, my go-to place for pillow covers, printed art and more, didn't disappoint me on my quest for yellow cheer…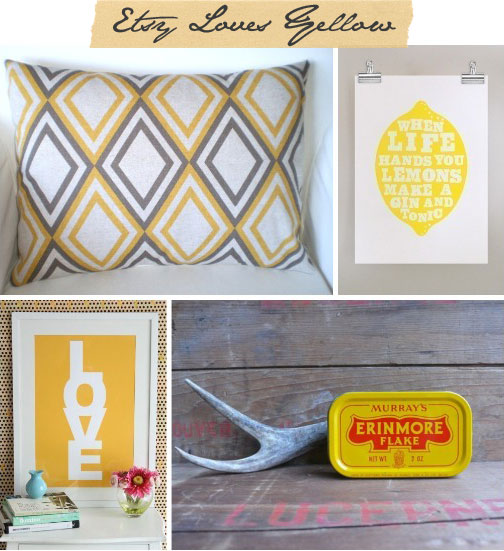 1. Fabric Junkie 2. Dear Colleen 3. Jennifer Ferramos 4. Birch + Bird
The easiest place to add those sunshiny spots of yellow is outside with table settings on the patio, flowers in the garden, or at the main entry like this oh-so-welcoming front door. When we were selling our last house, I read that homes with yellow doors and decor sell faster than those without…not sure if that's a fact but this entry would make me smile every time I returned home to it!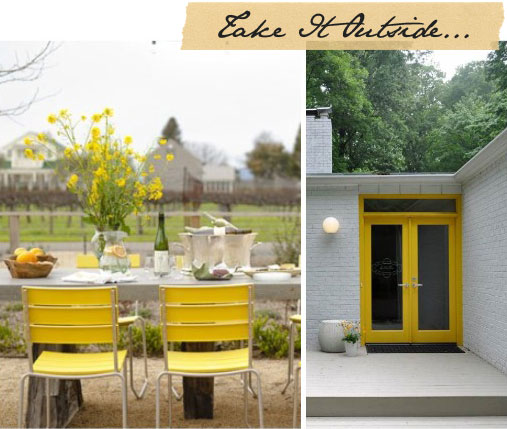 1. House Beautiful 2. Design*Sponge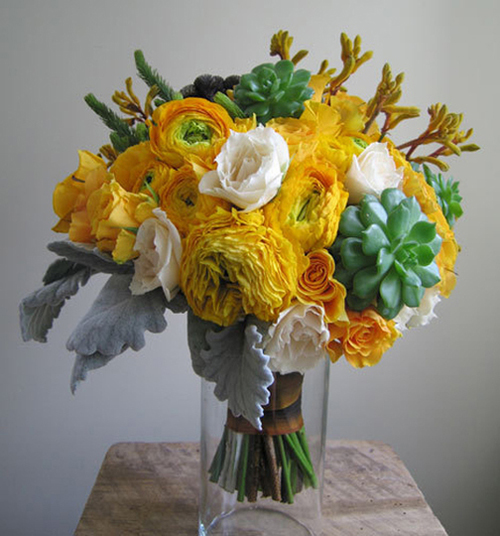 Apartment Therapy
How do you feel about yellow in decorating? Do you think it would brighten your mood or overstimulate you on a daily basis? We need some new patio cushions this year so I think that's a safe place for me to start adding a little bit more sunshine to our living space…I'm thinking wide yellow and white stripes. Hope you're getting some real sunshine wherever you are today!