September 30, 2010
We don?t know about you but we're always looking for clever ways to store and organize all the ?stuff? in our home.  Storage that is accessible, useful and above all else, aesthetically pleasing.  Lately, it has been on trend to see vintage finds in design.  So, it couldn?t be any cleverer to use vintage items as solutions for your storage and organizational issues.  And let's be honest, we all have them.  Don't we?
Lately, a favourite storage solution of ours is the classic vintage crate.  On wheels, wall-mounted and all stacked up, these crates love to be put to work.  And they often have amazing labels or branding too.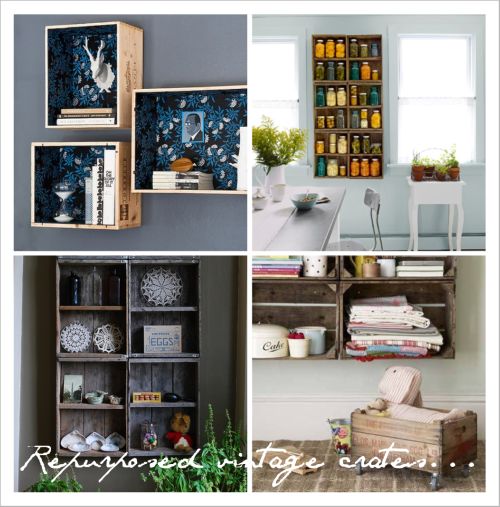 credits: Design*Sponge, poetic home, SpiderWomanKnits, baileys 
Not just meant for travelling, vintage suitcases come in all shapes and sizes, not to mention colour.  They are easy to stack or tuck under a piece of furniture for added visual interest.  What a great way to hide away toys, magazines, blankets, important papers…the list goes on.
credits:  creative mama, bethquinndesigns, hgtv
Our hearts might skip a beat if we ever came across an old library card catalogue that happened to be in our budget.  Just think of all the storage opportunity!  But for now, we'll stick with the smaller and more manageable file drawers, boxes and towers.  For kitchen storage, herbs and spices, electronic gadgets, cd/dvds, art and craft supplies.  Everything in it's place.
credits:  Elizabeth Demos, apartment therapy, young house love
What are your clever storage solutions?