March 2, 2011
Like many of you out there, space is at a premium in our home. With 5 members of our family and only 3 bedrooms, a shared bedroom for our two youngest girls is a must. So far, it's worked out perfectly as our youngest daughter is only 2 and still sleeps in a toddler sized bed. Within the next couple of years though, that bed will be too small for her and we'll have the dilemma of not being able to fit 2 twin beds in either of our kid's rooms. Unless we move (hopefully to that house in the country!), we'll have to get creative with our sleeping arrangements. My sister and I shared bunk beds for several of our younger years and even after moving on to our own rooms, the bunk bed stayed in one and we used the top bunk as our "office" for imaginary play (librarian and newspaper editor were our favourites!).
I've been seeing so many great bunk bed designs lately and thought I'd better start cataloguing them for when our time inevitably comes…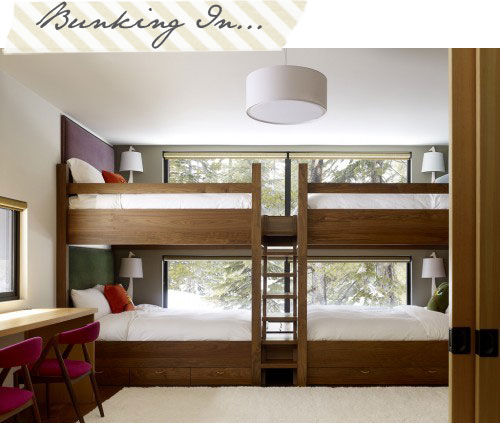 John Maniscalco Architecture via Houzz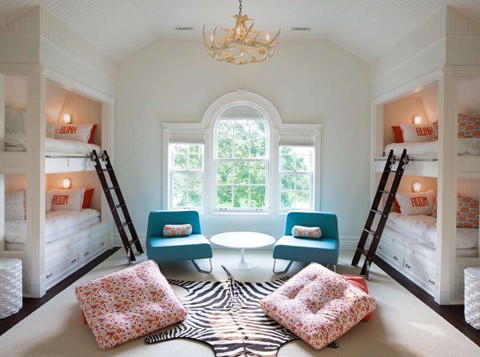 lmnop Magazine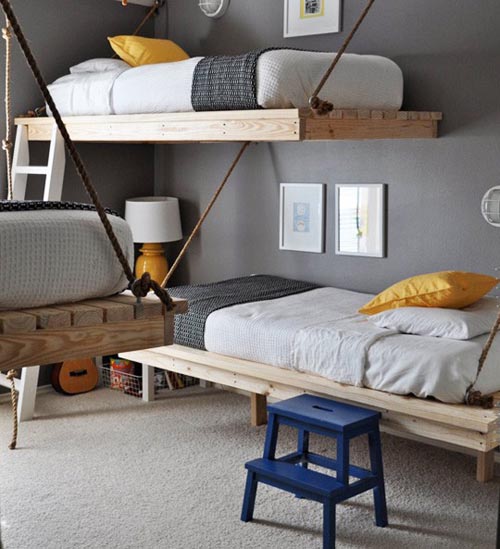 ohdeedoh. Photo by Marian Anderson.
For small rooms, what better way to maximize floor space than to take the bed to new heights! I absolutely love this Dutch girls room and all of it's simple charms and this treehouse loft is pretty amazing too…
Milk via The Style Files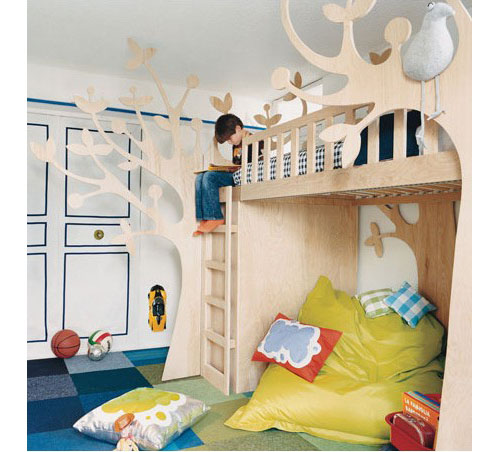 Cookie Magazine via kukunest
It's important for kids, and for all of us really, to have at least one little place to call their own. These bunks hollowed into nooks and crannies all look so cozy, perfect to cuddle in with a good book! Whether in holiday homes or shared spaces, these cubbies are ideal for bunk mates and adding simple curtains adds an extra sense of privacy…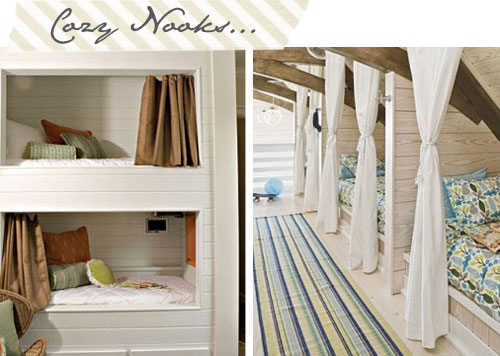 1. Southern Living 2. Tracery Interiors via Houzz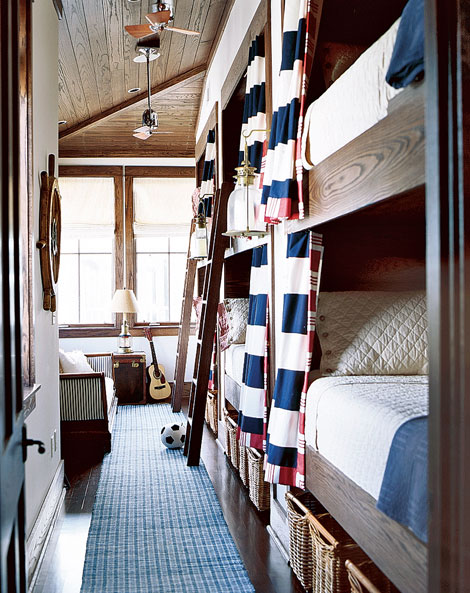 Traditional Home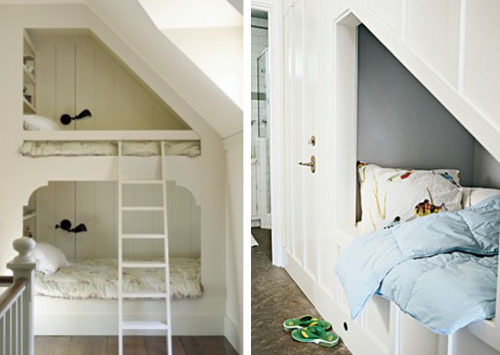 1. Photo by Richard Leo Johnson via Suzie Beezie 2. Coastal Living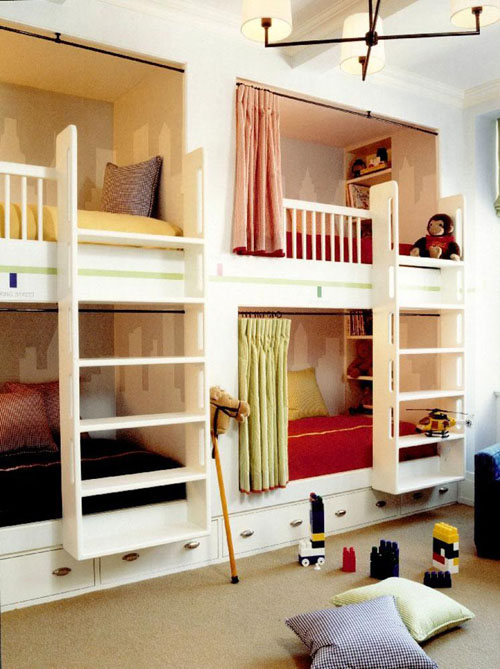 Ever Robinson Associates
Not for children alone, bunks have long served as sleeping solutions in cabins and cottages, like in this fabulous alpine home that we've featured several times before (and can't get enough of!). I love the idea of using one in an extra room like the library combination below…your guests would never forget sleeping in these snug accommodations! And how about the view in the last room? You'd definitely be waking with the dawn there but with a view like that, I don't think I'd mind being an early bird for a change!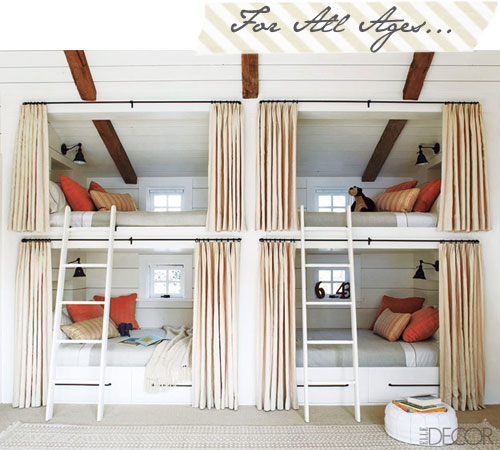 Elle Decor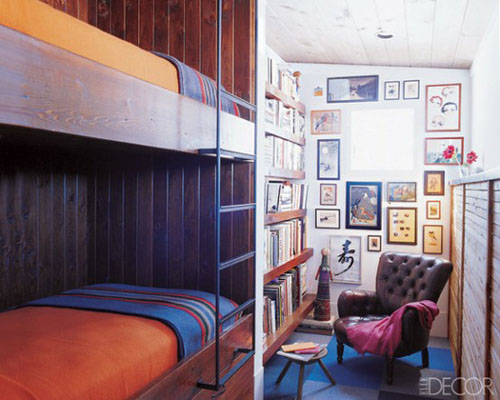 Elle Decor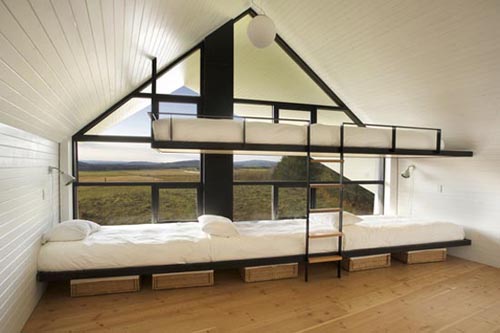 YH2 Architecture
My father-in-law has been talking for some time about building a bunkie up at the family cabin and I can't think of a more perfect solution for our family holidays up at the lake! Counting down the days until summer sunshine now…