August 2, 2011
I thought I'd feature a little Before + After that I did over the weekend. Now, it's not picture perfect but I was happy to get at least one small project checked off my list before we leave on holidays for the Oregon Coast next week. My front door and outside entry have been looking more than a little blah lately. I'd originally wanted to paint the front door a bright grassy green but chickened out and went for a "safe" moss green instead when I painted over the white metal a couple of years ago. Notice that I also neglected to paint out the bright white trim…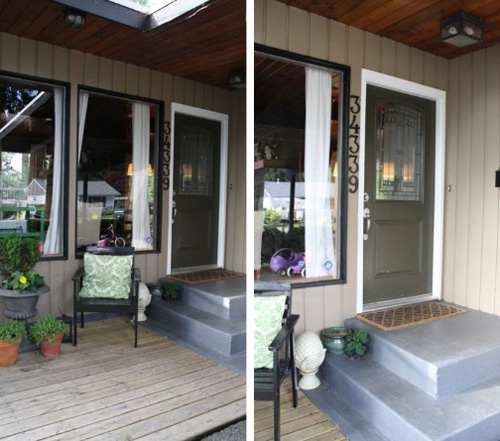 So, I took myself on down to the Home Depot and picked out Martha Stewart's Caper Berry and had our door painted in under a couple of hours. You know those projects that you finally tackle and then wonder why on earth you put it off for so long? Yes, this was one of them. Notice I still neglected to paint out that bright white trim! Question of the day for you: Our window trim and fascia are all black. Would you paint the door trim black as well or paint it green like the door? I'm leaning towards green to add a bit more punch to our shadowy front entry but haven't quite made up my mind yet…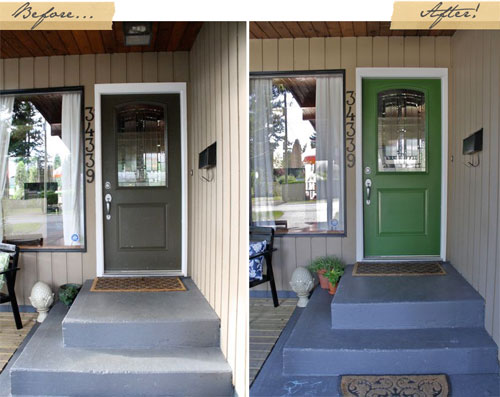 Next stop was our local wholesale nursery, Devan Greenhouses. It's by far the most affordable place to buy plants in our town and my kids love making the trip there as well…the petting zoo and kids corner definitely help! Devan didn't disappoint me on Saturday. I filled my cart with all of these lush plants (that's 4 flats hiding in there) for a mere $40! Seriously! I found the little green metal cart at a garage sale last weekend for $5 and it just so happens to match a larger green trolley that Rachel + I used for our last market display…you can see it in the window behind.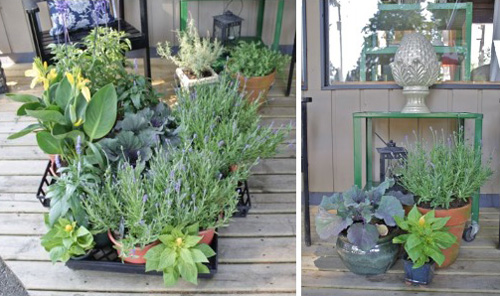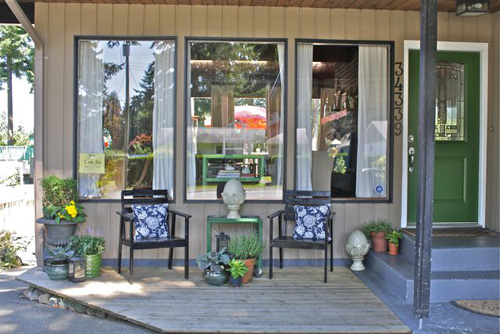 I came across these outdoor blue and white pillows on clearance at Homesense last week and you know how much I'm loving blue and green colour combos these days! Next step is to stain the front deck…and repaint the rest of the black trim and fascia. Funny how house projects snowball into more, isn't it?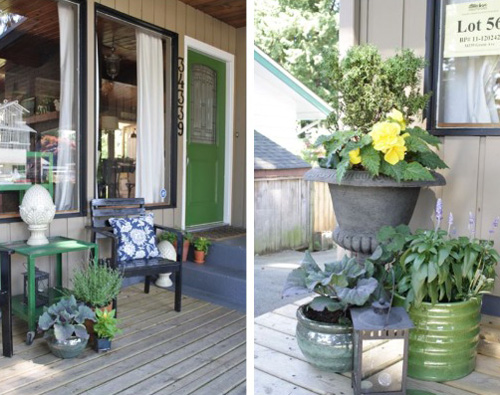 Wondering what that building permit in the window is for? Check out my handy hubby's new man-shed. He's been working hard building it for the last few weeks and just got a fantastic deal on all of this gorgeous cedar siding through a friend of ours and I'm loving how it looks with a fresh coat of stain! Now, if only I could use it as my dream studio…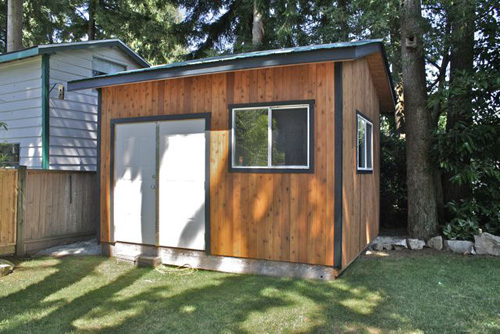 How are your summer projects coming along? Hopefully you've checked a few more off of your list than I have…but at least we've got one last month of summer before school's back in session. By the way, be sure to stop by our fresh-faced Fieldstone Vintage Market blog. Steph Anne of Yellow & Savvy Designs put together yet another gorgeous web page design for us and we even have an online application form now!