July 9, 2012
Summer has now officially arrived to our corner of the country and it is beyond wonderful! Friday night, after a picnic dinner at Cultus Lake, we picked up Gabe from his week away at camp and this mama hen is very happy to have all of her chicks back in the nest. A whole week felt like a very long time to have our favourite guy away from us. Despite having a tonne of fun, even he said he got pretty homesick which secretly made me a little relieved….don't want him too eager to leave home again quite yet! We spent a family day at the far side of Harrison Lake yesterday…sunshine, swimming and being together, the three key ingredients to summertime fun. It was so beautiful and none of us wanted to leave. Did you get outside this weekend? We're already planning our next local day trips so I'd love to hear what you got up to.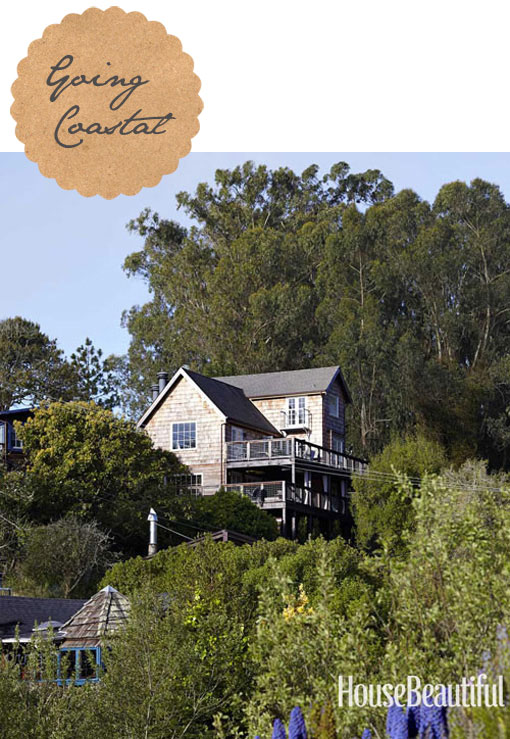 All photos by Alec Heimer for House Beautiful
Rachel and I have decided to take a wee break from blogging for the rest of the week. We've both got some things around the house that we want to catch up on and time with the kids at home is already ticking away…have you seen all of the back to school stuff in the grocery stores? I am so not ready to think about that yet. So, let's turn our eyes towards this gorgeous Californian weekend home instead. Perched on a hillside along the coast of Marin County, it is light and bright and was designed to sleep up to twelve people, despite only being 1650 square feet. There are plenty more lovely pictures over at House Beautiful too, if you'd like to see more…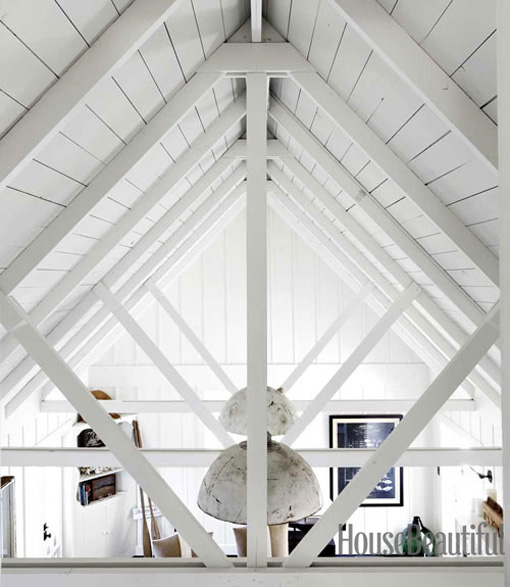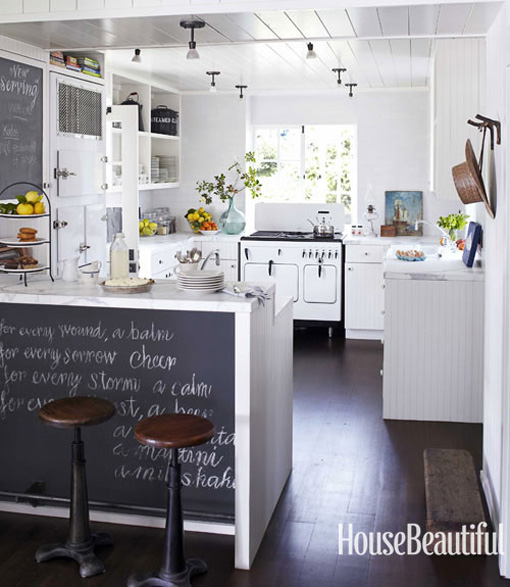 From the white walls and lofty beams to the ceiling lights made out of  old buoys, the numerous vintage touches throughout and that stunning ocean view, this remodel comes pretty close to perfect in my books! Designed by Erin Martin and homeowner Kim Dempster, the two wisely avoided taking the nautical theme too seriously and instead went for a "marine industrial" take. I really like Erin's response to playing with large scaled pieces in a small space too, "I might put as much stuff as I can into a small room, and in a bigger space, I'll do less stuff. There are no rules. Somewhere along the line we got stuck in a box. Let's get out of it and have some fun. Try something new."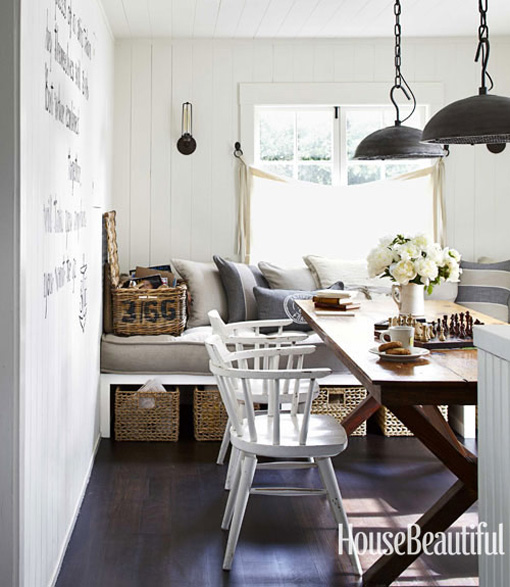 All photos by Alec Heimer for House Beautiful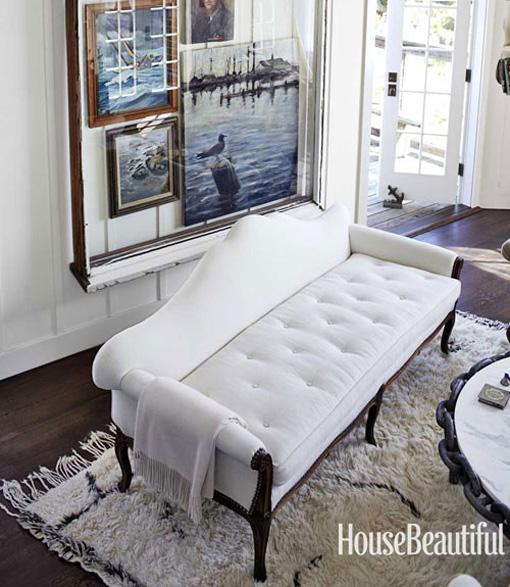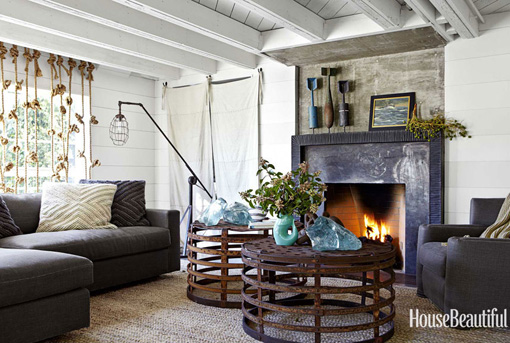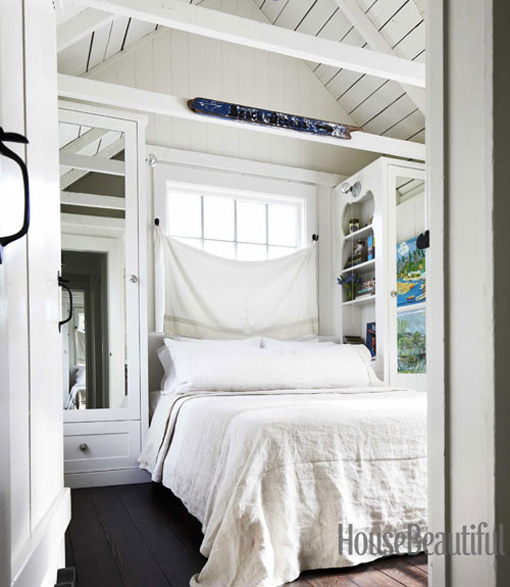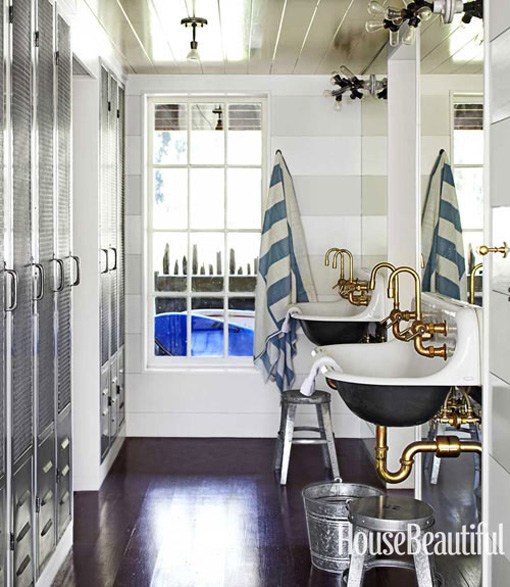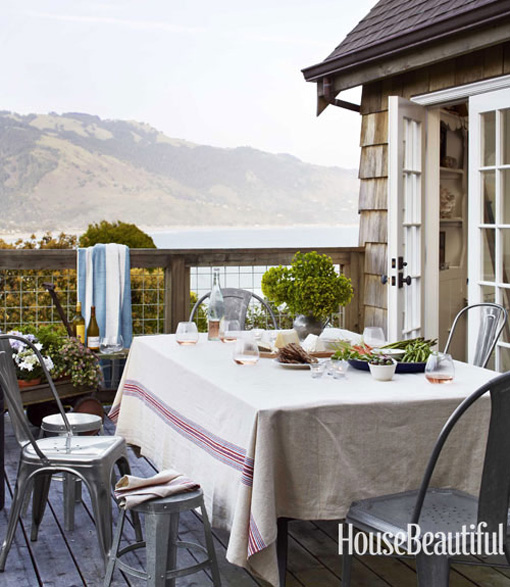 All photos by Alec Heimer for House Beautiful
Can you imagine breakfast or evening drinks with that view? I can! Those lockers and vintage sinks in the bathroom are pretty drool-worthy too! What do you have planned for the week ahead? I've got two more closets to tackle before moving onto our basement storage…something I've been putting off for a very long time! Rachel's still busy unpacking boxes and setting up house but we'll be back next week with regular posting. Have a wonderful week!