February 24, 2011
I was lost on Pinterest the other day and came across Brittni's inspiring collection of DIY projects. I've never seen so many fabulous ideas all in one spot! I have to say I got a little excited. You should take a look for yourself. And since it's Friday and it's fairly cold outside, maybe you'll be tempted to take on a project for the weekend while we're all staying warm and cozy inside.
Apothecary bottles are quite popular in our shop, quite a number have come and gone. Lily and I are attracted to their colour, shape and quirky features, like an old label or an embossed emblem. Bottles add a little sparkle to displays on their own or with some greenery. I especially loved this idea of displaying old and new photographs.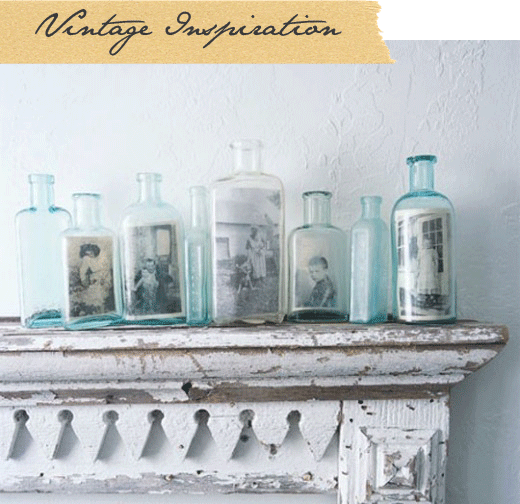 Apartment Therapy
Staying on top of things and maintaining some sort of organization is always on my mind. How about you? I'm constantly rearranging a shelf or a closet or my dungeon of a basement. And I always have an "out" box for the second hand shops. I like to use items I have around the house already to keep "like" things together. I appreciate all these do-it-yourself ideas for their simplicity and of course, their vintage factor.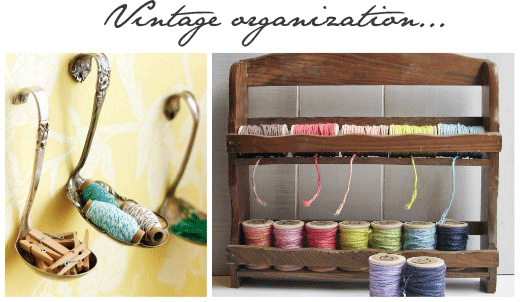 1. Better Homes and Gardens 2. fitzsu 3. Good Housekeeping 4. Country Home 5. Natalie Jost
My sister in law made an amazing blackboard similar to the one below that she's hung in her kitchen. She uses it to keep track of their schedule and it's always interesting to see what they have been up to. Old frames are a plenty at thrift shops, especially the gold variety, that look fresh and new with a coat of paint. Did you know that Rust-Oleum makes a base coat primer that is magnetic? Use it on a main wall for displaying your kids' art or for that inspiration board that you have meant to get started on.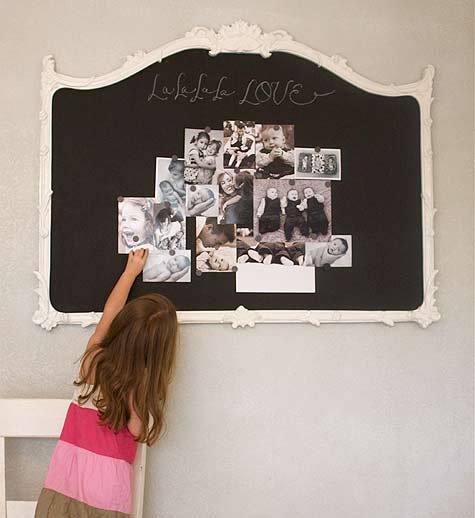 Design*Sponge
Real Simple's book shelves are sweet, don't you think? If the brackets are sturdy enough, a tall stack of books would make a striking display. A vintage tray becomes a magnetic note board or a place to display photographs. We have a dartboard in our shop that I've always thought would make a fun bulletin board too.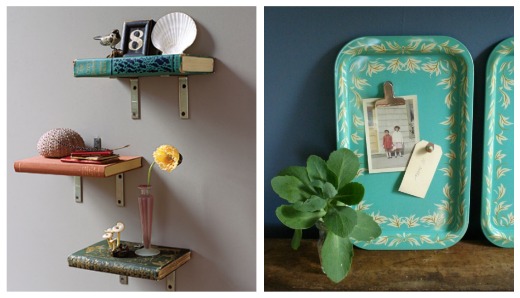 1. Real Simple 2. Happy Go Vintage
I mentioned my love of chairs awhile ago and I often come across a beautiful chair that just doesn't have any more life left in it. It's so disappointing when it's far too rickety or has been repaired in a rather unappealing way. These chair back hangers would be a resourceful way to let them live just a little bit longer. They are far too pretty to hide away in a closet. I think they would look so charming near a front door on some pretty hooks waiting for guests. Instead of just sitting around, these vintage chairs are put to good use as shelves and also look pretty too.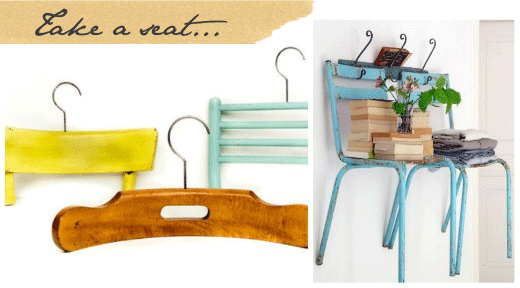 1. Resign via sfgirlbybay 2. Apartment Therapy
Our husbands are away so Lily and I thought we would get together and work this weekend. I'm looking forward to it. All the kids running amok. It should be fun!
Enjoy your weekend because it is finally here!