October 25, 2010
Halloween is just one week away and my kids have already been wearing their costumes all weekend! We hit Walmart yesterday and stocked up on candy but I should've known better than buy my favourite chocolate mix…once again my healthy goals have been sabotaged! More reason to hit the gym harder this week!
When it comes to decorating this time of year, I lean more towards harvest style decor and veer away from blood and guts…I'm a total wimp when it comes to horror movies of any kind too! But I do have an odd interest in vintage anatomy illustrations and props. I found these simple yet spooky decor ideas that could be done easily, many with things you might already have kicking around your home, especially if you have a doctor in the house!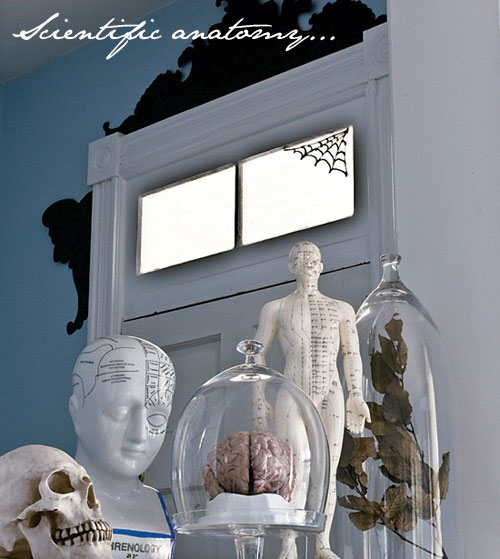 Style At Home
Last minute company coming over and not a single Halloween decoration in sight? This drink cooler could be carved out in no time or use up your extra paint cans and add some simple stripes or dots to these no-carve pumpkins. I love how they're displayed, casually piled in this fireplace…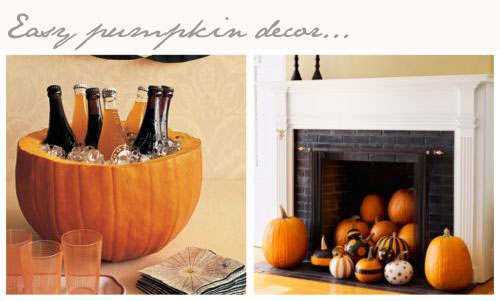 1. Martha Stewart 2.Good Housekeeping
Nothing could be easier than this candy display, found on House of Smiths. Fill glass vases and canisters with ghoulish goodies from the grocery store, tie on some hand written labels, display on floral moss from the dollar store and…voila! Instant table centerpiece!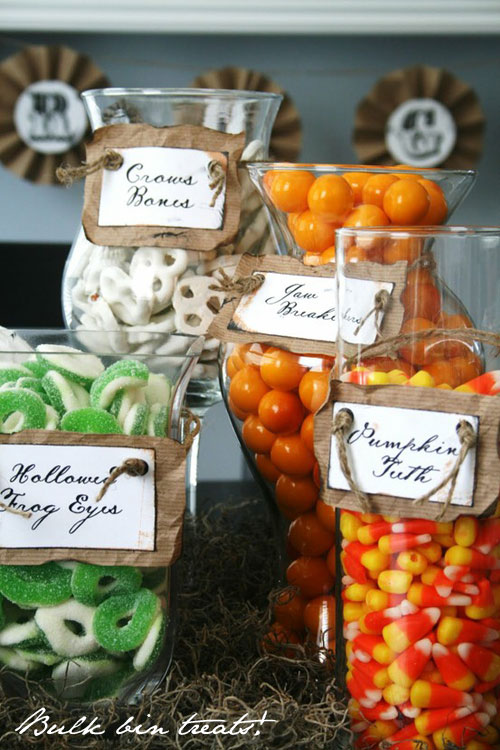 Rachel and I love owls! She's got a lovely pair that live in the ravine behind her home and one got close enough for us to get a good look a few photo sessions ago…so wise and mysterious! Looking to avoid cavities for your kids? These DIY owl pellets are an amazing idea! I don't know if I'm ambitious enough to make them this year but I'll definitely be saving them for another time…even for scientific party favours! And this vintage owl pirate is too cool…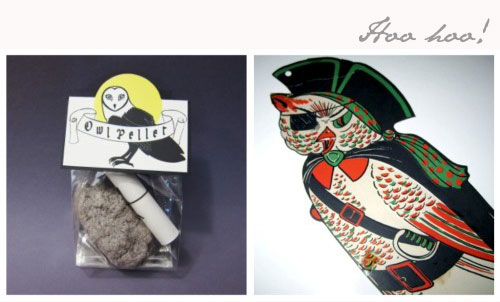 1. Martha Stewart 2. Grandmother's Attic
I love birds but there's something about crows and ravens that is slightly sinister…maybe it's because they're too smart! And there's that love of shiny objects…Anyway, this wall decor could be easily recreated with kraft paper taped to the wall and I'm so in love with these terrariums! What a fantastic idea for any holiday and so easy to make with the kids!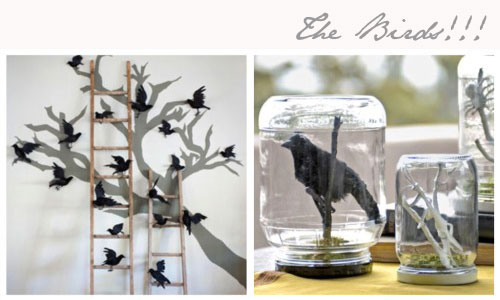 1. Better Homes and Gardens 2. Country Living
So go rummage through your closets…or Grandpa's garage…and see what ghostly specimens you can bring out just in time for the trick or treaters in your neighbourhood!