March 29, 2011
Have you read The Happiness Project yet? Lily mentioned the book in a post just after Christmas and I was immediately intrigued. I'm slowly working my way through it and it has inspired me to focus on what really matters. It might be the combination of Spring Cleaning season and the book because I've been in a clean and sweep kind of mood. In the first month of her project, Gretchen went through her home tossing anything and everything that was cluttering up her life. Then she did it again. All she was left with was what she needed and really wanted. How good would that feel? I went through my bedroom closet a few days ago and did the big toss. You should see my closet now. I have a tonne of new space to fill up again. I didn't stop at my closet either, my dresser is all neat and tidy again too. It felt really good to drop off 3 boxes of clothes at the second hand shop. Our bedroom is officially tidy.
How does your closet look these days? Does it need a little makeover?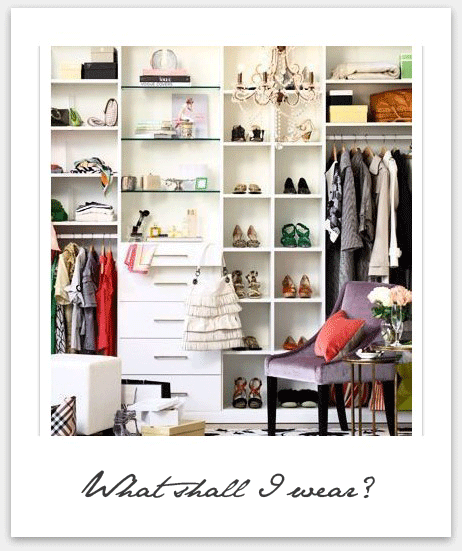 photographed by Mark Burstyn for Canadian House & Home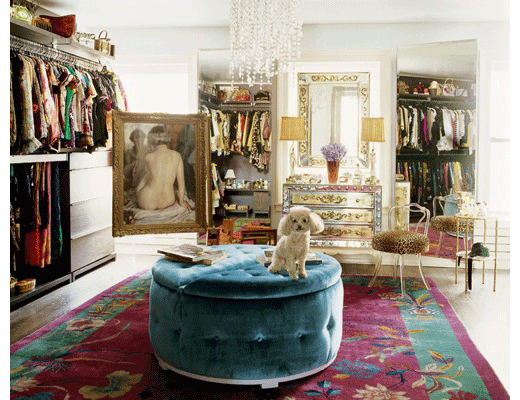 photographed by William Waldron for Elle Decor
How grand would it be to have a dressing room? I was trying to have a conversation with Lily the other day on the phone with my girls hooting and hollering in the background and foreground. I mentioned the idea of a phone booth but I think I would like a dressing room instead. A dressing room pour moi. I could get used to that. Yes.
photographed by Jean Allsopp for Coastal Living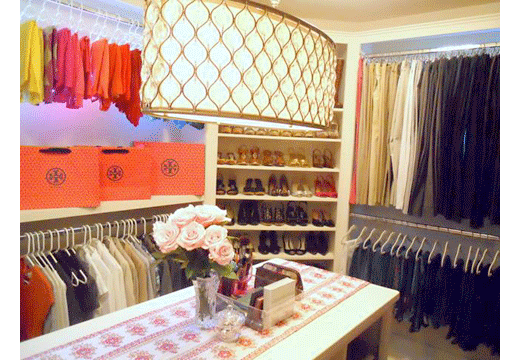 Made By Girl
Dreams aside. My husband and I share a standard sized closet and thankfully, neither of us has too many clothes and it really is just fine. My side of the closet is similar in size to the one below except this one is so much prettier. I'm all over wallpapering the interior of closets even if they are of the smaller variety. Our closets are one of the first things we gaze into in the morning so it may as well be lovely.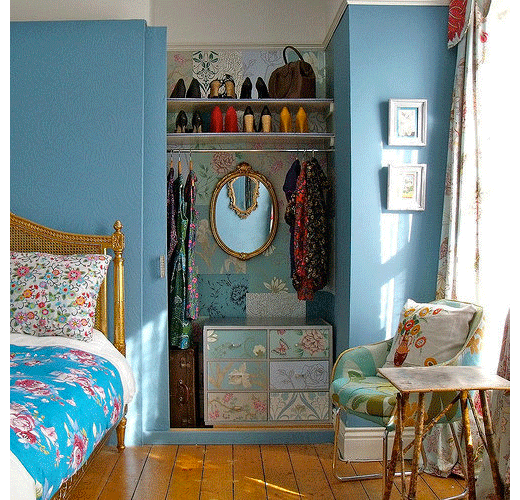 jaboopee
For those of you dealing with no closet space to speak of, why not put your clothes on display? These crisp white rooms show off an unexpected pop of colour from these clothing collections. What do you think?
And for the little ones if our lives, here are some ideas that might help get all that toy clutter under control or at least make things easier when clean up time rolls around. One closet isn't a closet at all, just a regular Ikea bookshelf. I love the little girl's closet from Domino, it's inspired me to add a couple closet makeovers for my girls to my project list.
1. Better Homes and Gardens 2. ohdeedoh 3. Real Simple 4. Domino via mscott218
So, where's the best place you've found to hide clothes from your husband? I promise not to tell.