December 6, 2010
This weekend we made our annual family jaunt to the local tree farm. We came home with a lush Grand Fir tree that has filled up our home with the most amazing fragrance! We also went to our 4 year old's preschool concert where sweet Sadie cried on stage (front and centre!) for the first half but thankfully rallied and sang her heart out for the second part…too cute for words! The weekend was too full to get any ornaments on the tree but I have high hopes to get it dressed to the nines this morning.
If you already have a faux tree but are yearning for the scent of evergreens, why not plant some sprigs of pine to create a simply stunning display like this? I think this would look gorgeous for holiday centrepieces or winter weddings as well…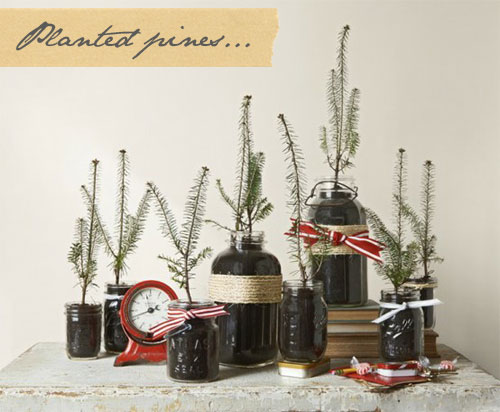 ReadyMade via French by Design
I love how simply festive this home looks. Red and white always looks classic and fresh and I have a thing for banners and garland…in fact, we still have a paper bird garland that I made for my husband's birthday in October hanging from our chandelier! I may just move it over to the tree tomorrow. And, funny enough, my coffee table is very similar to the side table below…I found it hidden away in the corner of one of our favourite junk barns last year.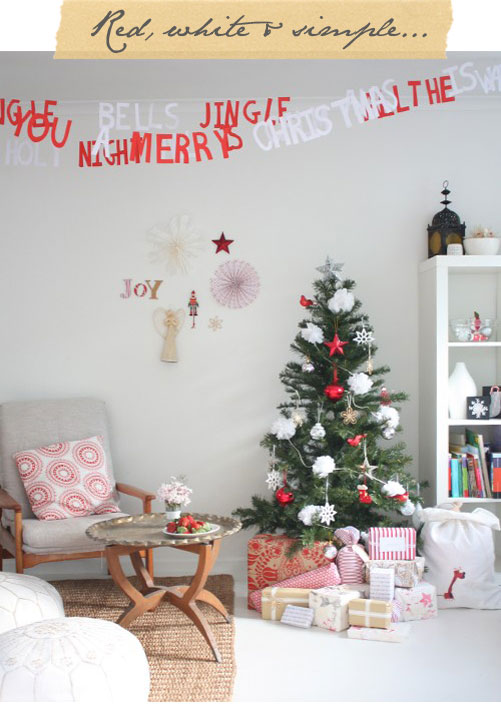 The Happy Home
Despite having started my Christmas shopping early this year, I still have a couple of people on my list who I'm at a bit of a loss to buy for this time 'round. I really try to put a lot of thought into the gifts I give, unless I think they'd enjoy a gift card as much as I do! As the dates on the calendar get marked off, I'm suddenly feeling pinched for time and I've spoken with several friends who felt the same about decorating this season. Life gets so busy with family, work and places to be that sometime's even just one more thing, like decorating, on your to-do list can start to feel overwhelming. Here are a few easy yet festive ideas I found around the web…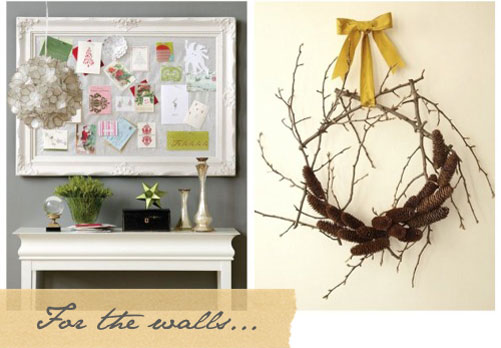 1. Canadian House & Home 2. Emily Thompson Flowers via Design*Sponge
I love how many of these items could be made yourself with foliage clippings from your yard (or your neighbors!) or leftover bits of paper, fabric and crafting supplies. For the last couple of years, I've hung rows of twine in front of our kitchen window to hang our Christmas cards from but I love the bulletin board and embroidery hoops too! And how cozy would the flannel shirt wrapping look under the tree?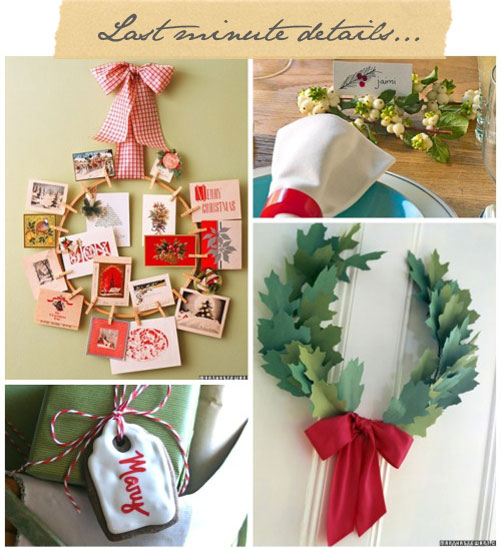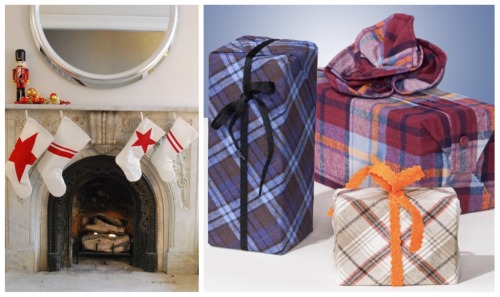 1. Martha Stewart 2. Sunset 3. Andie's Specialty Sweets 4. Martha Stewart 5. Reiter8 6. ReadyMade
I really loved this Norwegian home that Holly over at decor8 featured a few weeks ago. It belongs to Siw Haveland, the lovely blogger behind Design Shimmer, and is so effortlessly Scandinavian with it's white palette, natural wood and layers of texture. Stunning! I especially loved the fireplace vignette…not traditionally dressed for Christmas but the whole combination feels very winter woodland to me!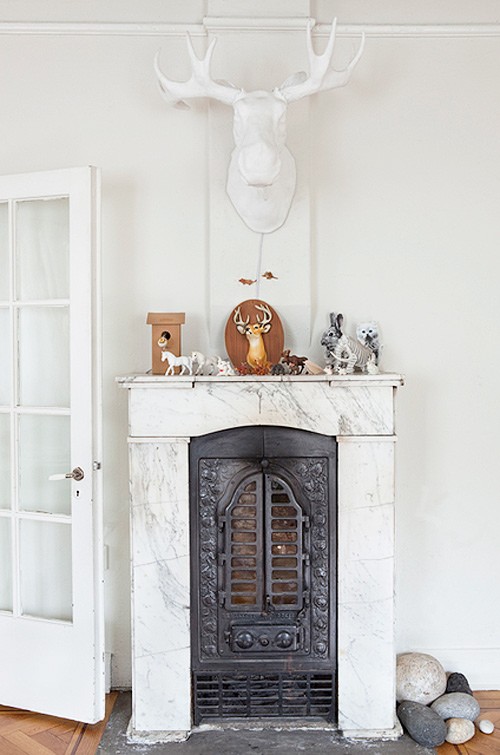 Home of Siw Haveland via Decor8. Photos by Sandra Aslaksen.
I keep coming across the most amazing advent calendars…isn't this one made of hanging animal prints gorgeous? And nothing is easier than grouping a bunch of ornaments in a bowl or under a glass cloche like these…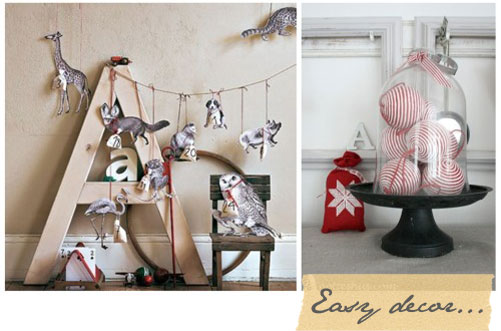 1. Brigitte via Oh, Hello Friend 2. Anette's Hus
Now to tackle my tree with a few strands of Christmas lights…wish me luck!