January 3, 2012
Happy New Year! I can't believe that another year is behind us and a new one has begun. 2012 has been exciting for us already and I'm assuming the rest will be too. We spent New Years Day with Lily and her family plus 6 other families! It was so much fun! We spent a day and a half around the house and it felt really good to be home. We have a second offer pending on our house and we should know by the end of the week if the girls and I will be heading south for the end of February. My husband will be bidding us fair well on the weekend so I'll be on my own until we meet again in Florida. One thing about this move that I'm very excited about is going through my home with a fine toothed comb and examining each and every item before it gets packed away on the back of a truck and travels 5211 kms. I hope that everything on that truck will be precious cargo. I started awhile ago but with the sale of our house up in the air, I haven't really dug into the chore with gusto for fear of the mess that sorting and purging can sometimes create. It's a good exercise even if you aren't moving your family to another country. "Things" accumulate so quickly and I always notice it around the beginning of the year when I'm trying to find places for all the new treasures that Santa left under the tree. I'm not one to make New Years resolutions but solutions for storage and organization always cross my mind around now.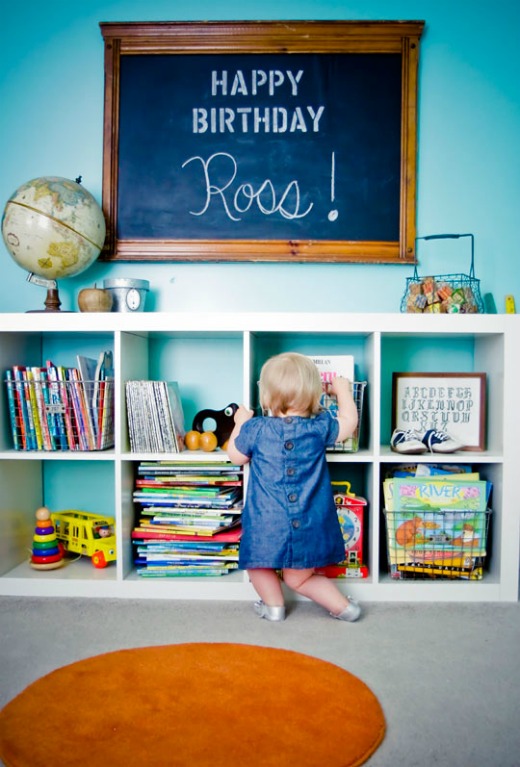 Ohdeedoh
This Ikea classic is so versatile! The Expedit comes in a few sizes and colours and works well in any room. The shelves are big enough for bins or baskets and best of all it's an affordable option. I still don't have one of my own but once we get settled, I wouldn't be surprised if I bring one or two home.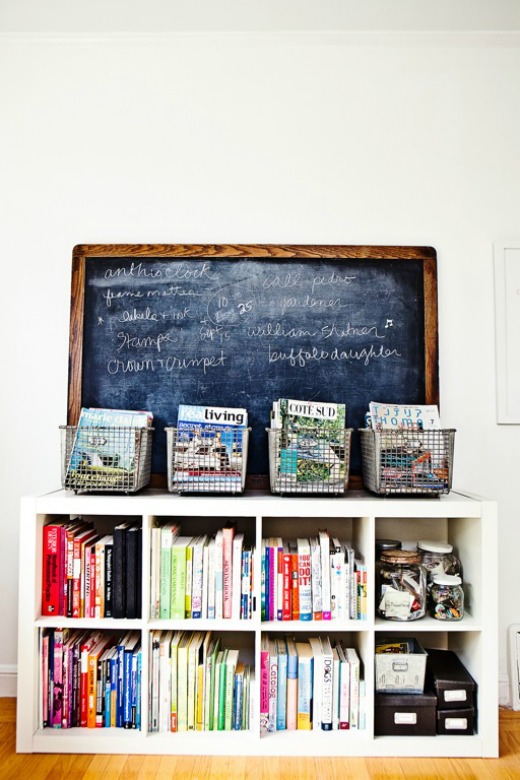 Rue Magazine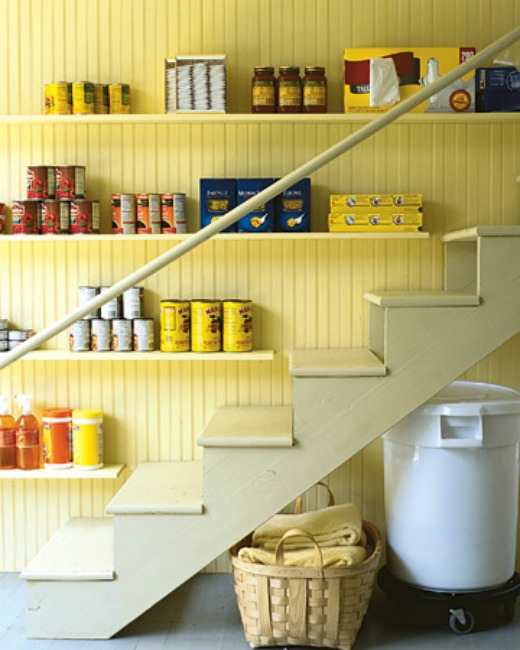 Martha Stewart
I'm don't buy a lot of pantry items in bulk or anything else for that matter. I find storage becomes an issue when you have too much of one thing. There are the staples of course, but that's it. I don't buy something just because it's on sale or a good deal unless I need it and use it often. Before our renovation, I thought about adding a dry pantry in the basement but it always seemed inconvenient. This stairwell pantry makes it a little easier to quickly grab that missing ingredient. Now I have a "just right" kitchen, it's not too small and not too big. And everything fits easily into the cupboards.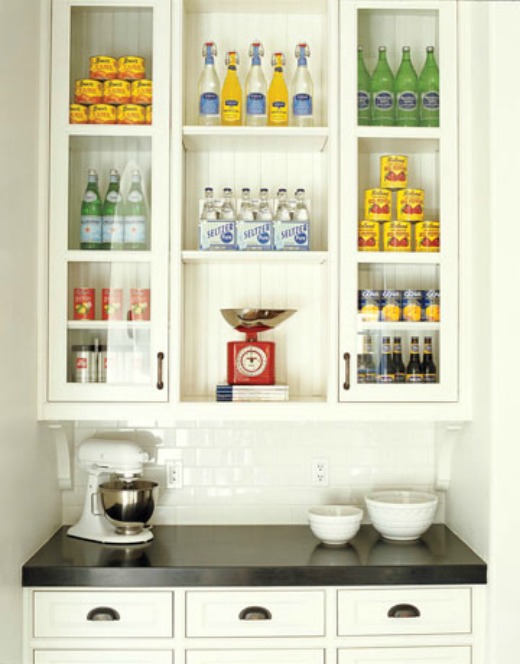 House Beautiful
It pays to invest in cabinet organizers, you know, the wire shelves, trays, plate holders. Get things all sorted and figure out what would make your life easier and then take a browse through Ikea, Crate and Barrel, The Container Store and Green Depot. They all have great options for storage and organization, like these Weck jars. I stopped buying spices in jars ages ago just because of the cost. I also found that spice jars are hard to keep tidy. Canning jars stack nicely, are easier to use, last forever and most importantly, look pretty.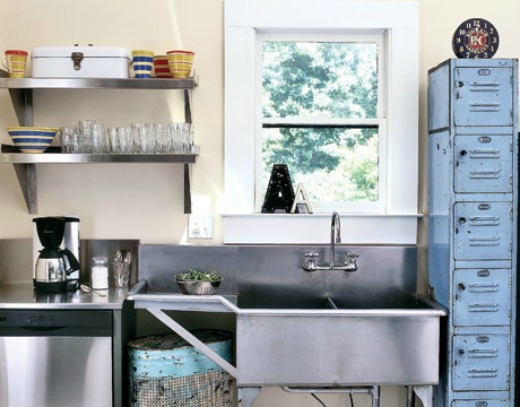 Apartment Therapy
Bathrooms are another place that clutter tends to accumulate especially when multiple people share one bathroom, like our family does. I don't have any drawers in my ensuite for items like toothbrushes and cosmetics so an Ikea Rationell pull out shelf made a huge difference. I loved the idea of adding a magnetic board for small containers and you could even add magnets to the back of your cosmetic jars and I've even seen hair pins stored this way.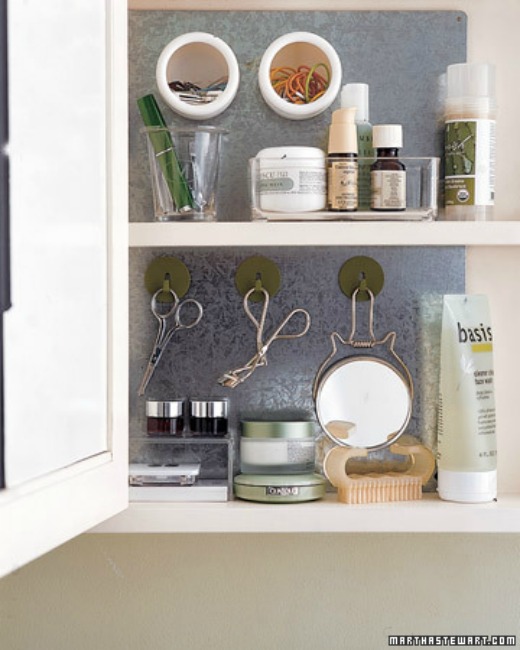 Martha Stewart
Why not use Grandma's precious china to store your baubles? A vintage muffin tin would work just as well. I might have to start a jewelry collection because this drawer of china looks so darn pretty. Maybe I'll make that my New Year's resolution.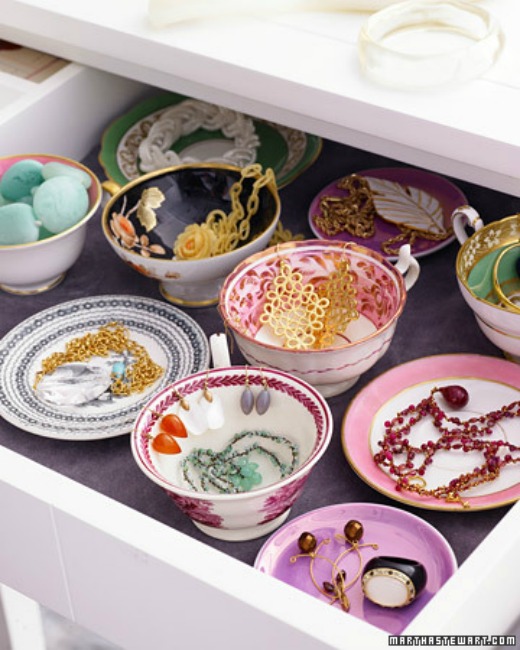 Martha Stewart
I pray that this year will bring you hope, happiness and health. Thank you so much for keeping up on the Birch + Bird goings on. We appreciate all of you and that you take the time to read and comment each day. It makes this all worth while. It's good to be back!