October 27, 2010
My four year old daughter, Sadie, is enthralled with the "fairy houses" or mushroom clusters that have been popping up around our yard for the past several weeks. There was an especially amazing "fairy city" growing on an old birch stump that she loved looking at until the cold weather sent all the fairies to their holiday homes!
Mushrooms and funghi have made a comeback over the past couple of years, thanks to the popularity of woodland themes, the revival of all things vintage and eat local campaigns. The tireless artists and crafters over at Etsy seem to especially love the 'shrooms…I made a treasury last night and found it hard to narrow down my top 16! This post wasn't any easier, let me tell you…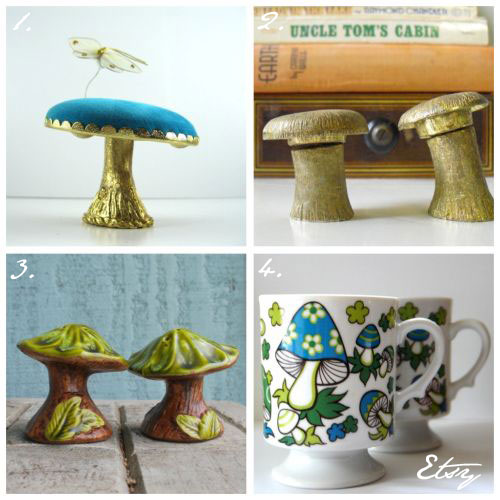 1. The Queen of Re 2. Easter In Harlem 3. Stylin Recyclin 4. Vintageer
One of my favorite Etsy shops is Woodland Belle and Mai McKemy is the artist behind all the dreamy woodland inspired designs. Her tiny terrarium rings and necklaces are especially unique…each is carefully handmade to order and is a one-of-a-kind piece enclosed in real glass. Like I said, dreamy!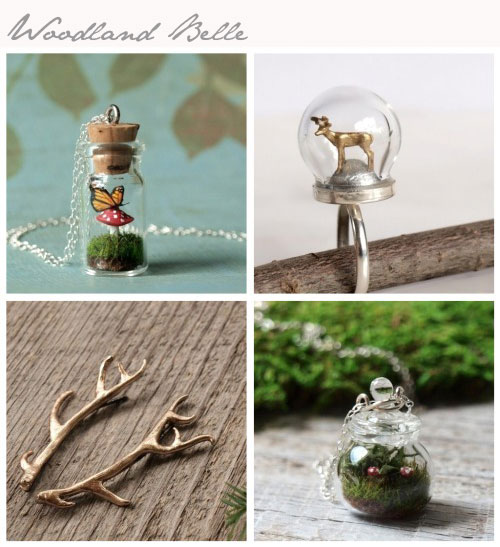 Etsy isn't the only source of mushroom inspired goods. From kid's rooms to the kitchen, funghi is on display! First up is Ferm Living. There's been a bit of an overkill in wall decals, in my humble opinion, but I think these orange ones are sweet and subtle, especially for a kid's room like this! And I love the idea of this wallpaper on a single kitchen wall, maybe behind some open shelves. Mushroom soup anyone?
Terrain has so many great finds for the home and for the garden. The sachet would be a lovely hostess gift, as would the silver salt and pepper shakers. A new take on the seasonal classic, this natural looking wreath is a beauty and would easily fit into both autumn and winter decor…love it!

sachet …wreath …salt & pepper shakers
This set of dessert plates from West Elm are almost too pretty to use! They would look so lovely hung on a kitchen or dining room wall, similar to some of the ideas Rachel posted last week here. Or wow your dinner guests with a field study inspired table setting…moss, branches, the works!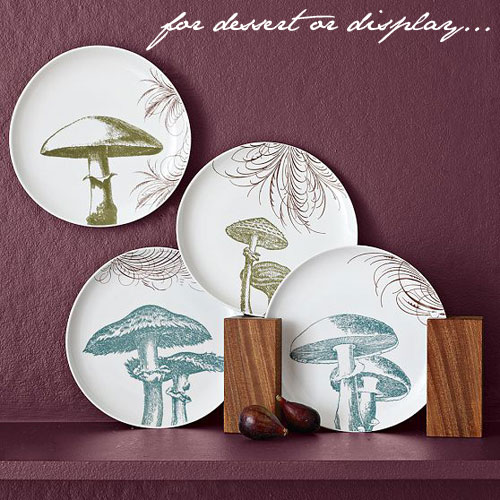 dessert plates
Next up is Anthropologie…one of my all time favourites! The toadstool pouf is beyond adorable! White ceramics are a weakness of mine and I really love the simplicity of this canister. Doesn't the toadstool plate looks like it stepped straight out of the '70's? Perfect for retro inspired holiday spreads!
I'm totally envious of the toadstools that Maria over at Live Beautifully has pop up in her backyard…why not prop them in vases instead of flowers? Simple and earthy and oh so lovely! Imagine them on wedding tables…
Mushrooms, the fruits of the funghi world…just be sure to avoid the magic variety at all costs!