April 15, 2012
Please join us for an exclusive 1st Dibs evening of shopping, wine + cheese, sweet treats, live entertainment by Coalmont + Sharla Sauder and so much more! Many of our talented handmade and vintage vendors sell one-of-a-kind items and tickets for this evening will be limited to 150 ticket holders and invited guests. Sip and savor while you shop, far ahead of Saturday's crowds!
Each visitor will receive a gift bag upon arrival, compliments of our sponsors and select vendors, and will also have the chance to bid on a selection of fabulous silent auction items, with full proceeds going to support Life Recovery. Don't miss out on your chance to join us on Friday night! Purchase tickets HERE!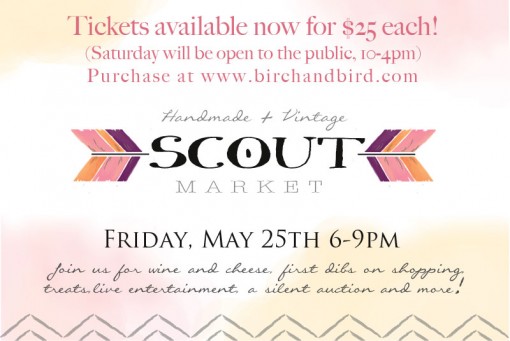 Purchase tickets HERE!
Saturday, May 26th will be open to the public from 10am-4pm for a $2 admission fee, half of which will go to support Life Recovery, a local women's rehabilitation program in Abbotsford, BC. We hope to see you at Scout Handmade + Vintage Market later this Spring and will be back to our regular posting tomorrow. Have a great Sunday!