November 2, 2010
I don't know about you, but our list of home improvements keeps on growing. Somehow, we keep adding things rather than checking them off…anyone else in the same boat? The biggest project on our list is finishing off our basement rec room into a play space for the kids. Now that they're aged 7, 4 and 2, the need for some extra room for them run wild in (and some quiet time for the adults!) is becoming more of a necessity than a novelty for our home, especially now that the rainy season has arrived in full force!
There is no reason to sacrifice style when it comes to decorating for children. I have always avoided branded themes and try to stick with furniture and art that will grow with each child. Thankfully, my mom has always had a keen eye for furniture and has scored many a find at garage sales, thrift stores and even curbside through the years. Lucky for me, she had the good sense (and the space!) to be able to save and pass along some of her finds to our kids and I love the sense of heritage some of the older pieces add to their rooms. Some of these spaces, all found on Design*Sponge, give me the same feeling. My son would love this skateboard rack and we have a large collection of black and red plexi letters and numbers in our shop…how easy to line them around a room on a plate rail as in this loft space?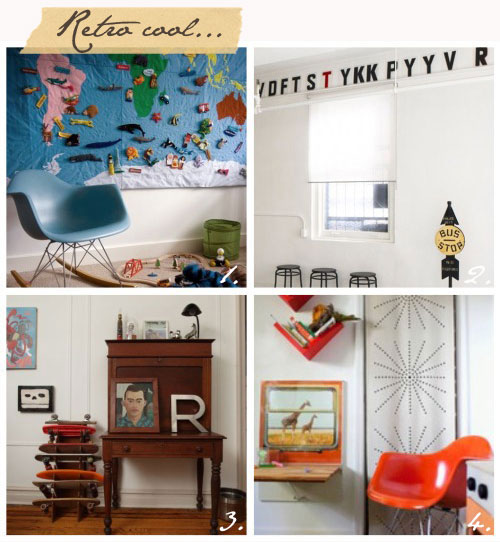 1 & 4. Design*Sponge 2 & 3.Design*Sponge
Despite my love of decorating (and being in control!), I do try very hard to let my kids express themselves in their own rooms. Chalkboard walls are an easy way to showcase their art…and erase it when you've had enough! Loving the retro wall clock, too!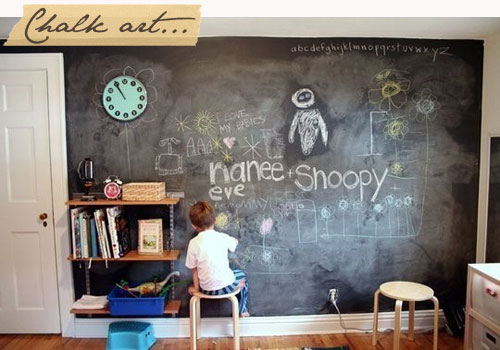 Laura Frantz via emmas designblogg
Although our son is imagining a video game cave for our basement, room to move and stretch out is a must! I love how easy this hopscotch mat would be to make with some burlap and masking tape…perfect for parties! And how cool are these giant pebble pillows? So great for adults and children alike!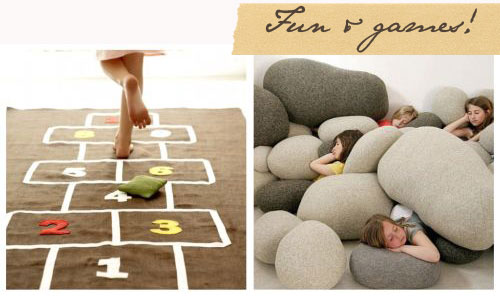 1. Cool Spaces for Kids and Kids Decor via ohdeedoh 2. smarin
Tee pees are back in full force! Every kid loves a secret hideaway, a space of their own, and these tee pees would be so easy to make yourself…and even easier to fold up and store in a closet when more floorspace is needed or to bring outside in warmer months.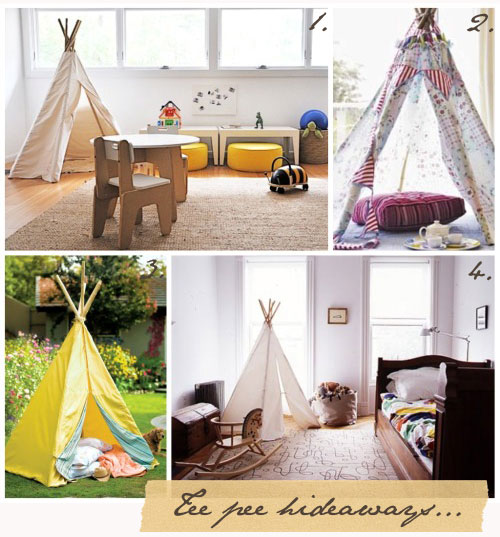 1. Decor8 2. Ariadne at Home 3. Sunset 4. Emmas DesignBlogg via Black Eiffel
Since discovering Etsy a couple of years ago, it has been my go-to source for affordable wall art. Kids tastes (not to mention my own!) change so quickly, there's no need to spend a small fortune on frame-able prints. Here are a few of my top picks as well as some framed flash cards shown at Chez Larssen (there are a tonne to be found on Etsy!) that could be put together in no time!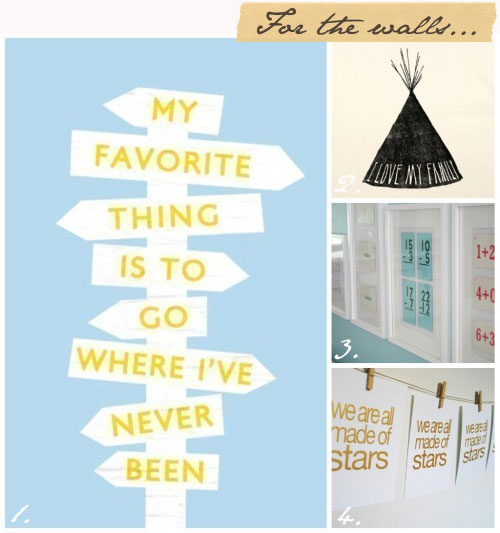 1. 3 Lambs Graphics 2. Beauchamping 3. Chez Larssen 4. Jess Gonacha
Last but not least, I am loving everything on the site of Rifle Paper Co. From invitations, to prints, to their amazing wooden recipe boxes, my wish list keeps growing! Their holiday postcards and sets are pretty amazing as well! These prints would be perfect framed in any kids space…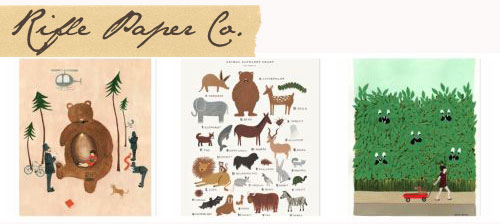 1. Uh Oh 2. Animal Alphabet Chart 3. Monsters in the Bushes
note: Just after finishing this post, I discovered a feature over at Creature Comforts about Anna and Nathan Bond, the husband-and-wife duo behind Rifle Paper Co. Read their story and get a glimpse of the design-to-press process here at Gifted Magazine, along with dozens of handmade gift ideas, freebie print-ables and more!
Wish me luck in finally checking some projects of of our list…I'm gearing up to start at least one this weekend! I'll keep you posted…