Category —
Homes + Interiors
Man, this week went fast…anyone else feel the same? After being out of commission for the past several weeks, I've been so happy to be feeling better that I packed a tonne into the last few days, maybe even a bit too much judging by how late the kiddos have been sleeping in! Our weather has just been so awesome that it felt like a shame to miss out on being outdoors for even a moment! My girls were in gymnastics camp each afternoon too (fun for them but a lot of extra running around for me) and I'm looking forward to unplugging and enjoying some downtime this weekend. We're heading off to our friends' cabin on Lasqueti Island and cannot wait! It's rustic and off the grid but there's nothing like being by the ocean to recharge, agreed? Before we head for the ferry, here are some links I've loved this week:
1. I've always been a sucker for anything indigo (my collection of mismatched blue and white china is a little out of hand) and these DIY placemats by Lovely Indeed would look right at home on my dining table: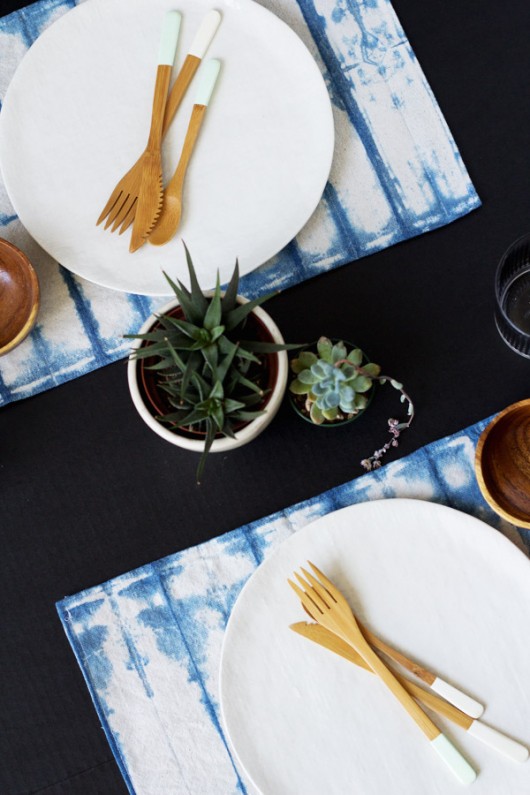 DIY Indigo Shibori Dyed Placemats |
Lovely Indeed
2. Daniel Kanter recently tackled this amazing bathroom reno for actress Ana Gasteyer and the Pineapple Print wallpaper (Anna Bond/Rifle Paper Co. for Hygge & West) totally stole the show: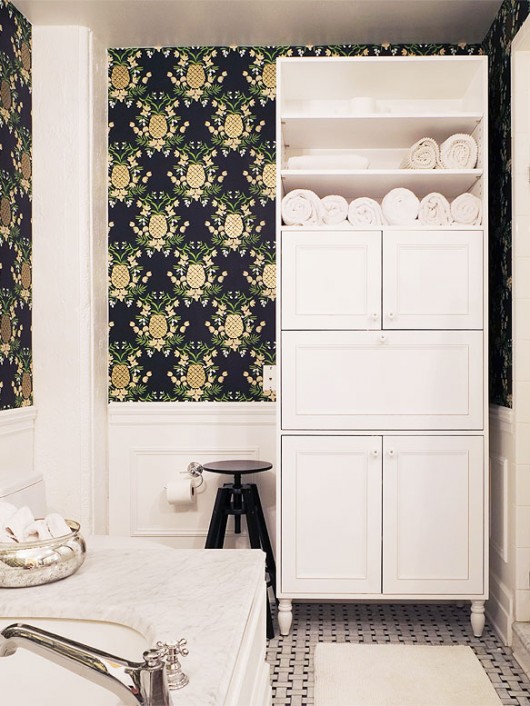 Bathroom reno by
Manhattan Nest
| Rifle Paper Co.
Pineapple Wallpaper
3. How awesome is this DIY Modern Cooler makeover by Almost Makes Perfect? I feel like I should make one of these for every beach-loving friend I know: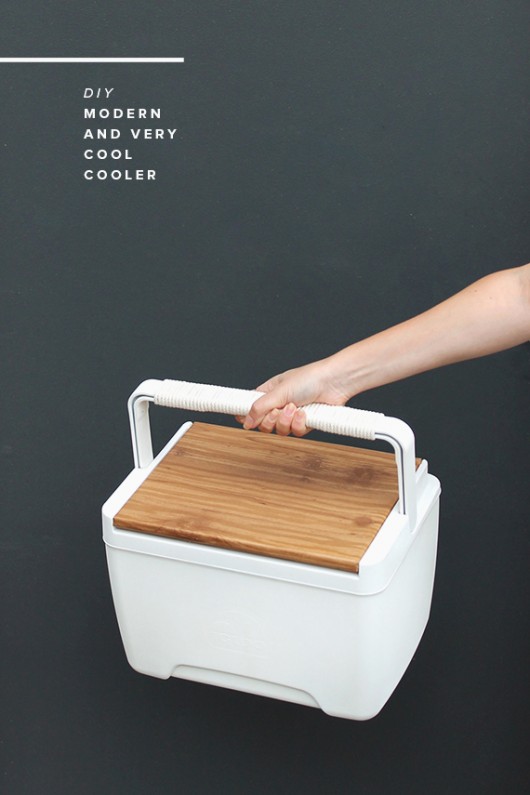 DIY Modern Cooler |
Almost Makes Perfect
4. We've had the same pine sleigh bed since we got married 13 years ago and I am so over it. I don't want to pay a tonne on a new bed frame and haven't found any new and exciting DIY headboard ideas but this bed frame project by Apartment Therapy looks simple, quick and super cheap to do…just my style! :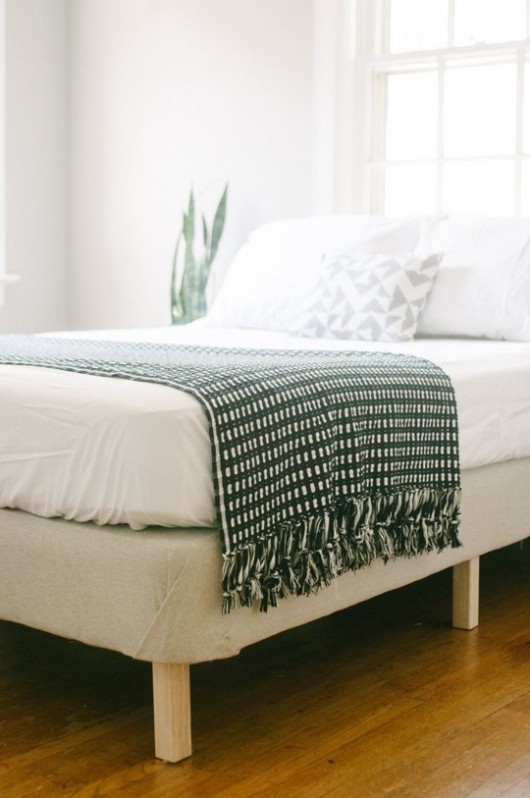 DIY Upholstered Bed Frame |
Apartment Therapy
5. I spotted this adorable home tour over on A Beautiful Mess and after the busy week I've had, can totally picture curling up under this amazing quilt: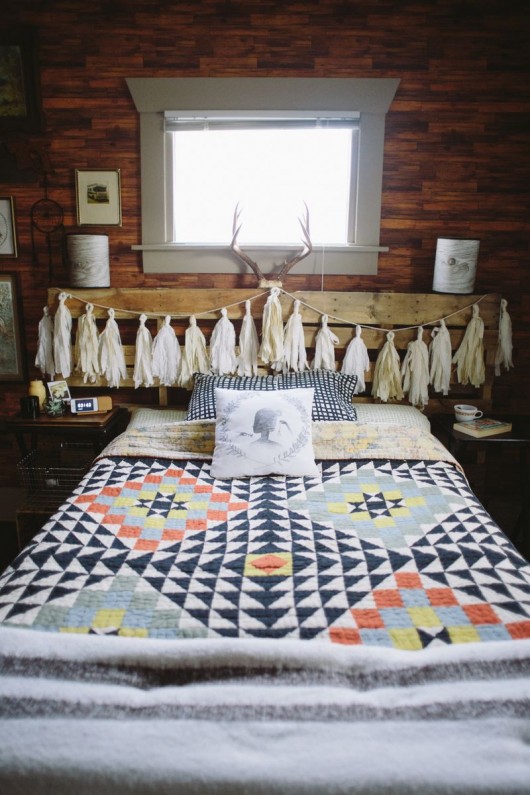 Home of
Elizabeth Morrow
|
A Beautiful Mess
We're heading out first thing tomorrow for a few days of swimming in the sea and campfire cookouts so I'll be back to chat sometime middle of next week. Cheers!

The Summer heat finally kicked in and I'm loving it! I'm still taking things pretty easy after my surgery a few weeks ago but I'm feeling much more like myself and I cannot wait to get back to my usual activities, work and family fun. This "relaxing" business has been far more difficult than I thought it would be and I'm eager to get on with things, including finally decorating our new house. West Elm sent me a press kit for some of their new arrivals and I'm really loving the retro-meets-global vibe they've got going on for Fall, with price points for every budget too! Here are some pieces that I would be more than happy to bring home: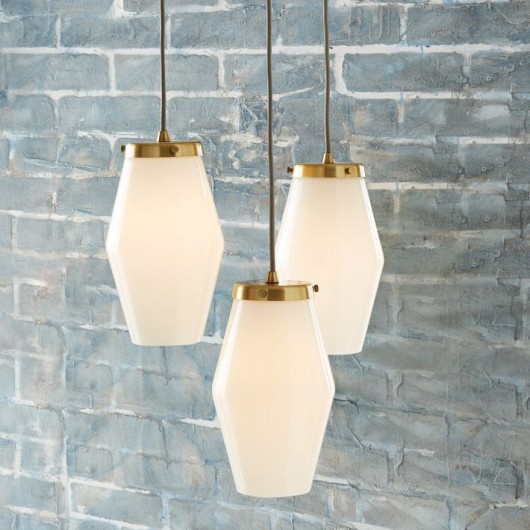 West Elm | Mid Century Glass Pendant
West Elm | Ladder Bookshelf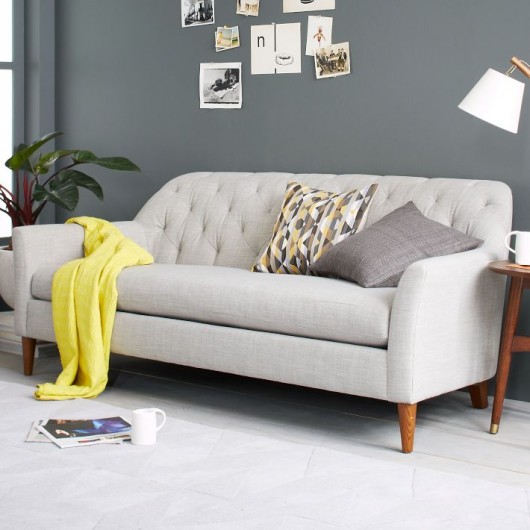 West Elm | Ainslie Sofa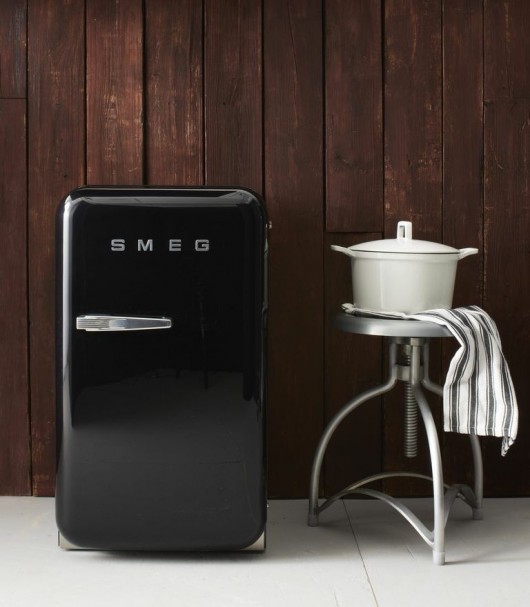 West Elm | Mini Smeg Fridge (arriving Fall 2014)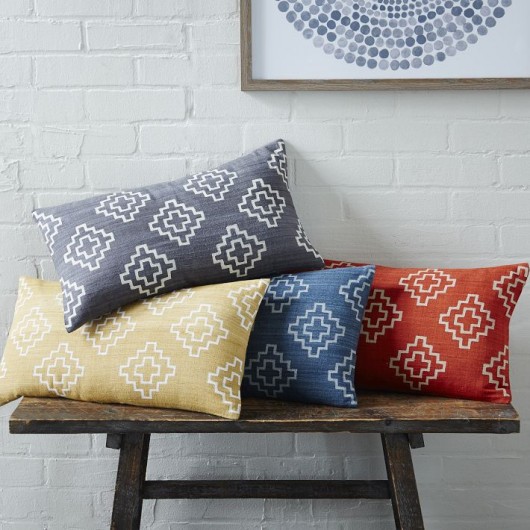 West Elm | Hand Blocked Stepped Diamond Pillow Cover
West Elm | Arriving Fall 2014
I'm crushing hard on all of these new finds (especially that pendant light…I kind of need it!) and how cute is that mini Smeg fridge?! Pretty sure I'd let Brad have 3 beer fridges if they all looked like that ;) Hope you're keeping cool, enjoy your Wednesday!

It's no secret that green is my favourite colour but when it comes to saying which shade or tint of the hue is the peak of perfection, I'd be hard pressed to decide! While I love a good emerald or leafy green, the colours of the sea may be the ones that call to me most but there are so many variations (not to mention colour combinations) that I could never settle on just one. The best part about green is that it honestly goes with just about any decorating scheme. Don't believe me? Nature is always the ultimate colour guide and green never looks out of place…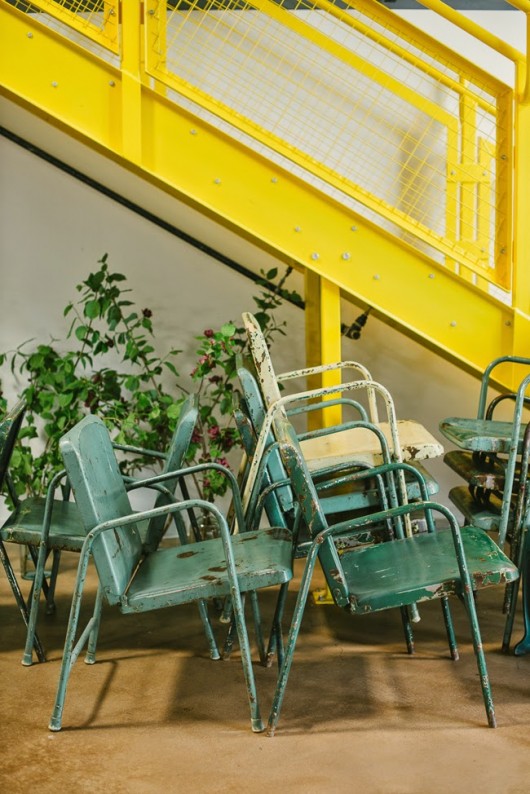 Kinfolk Dinner | A Daily Something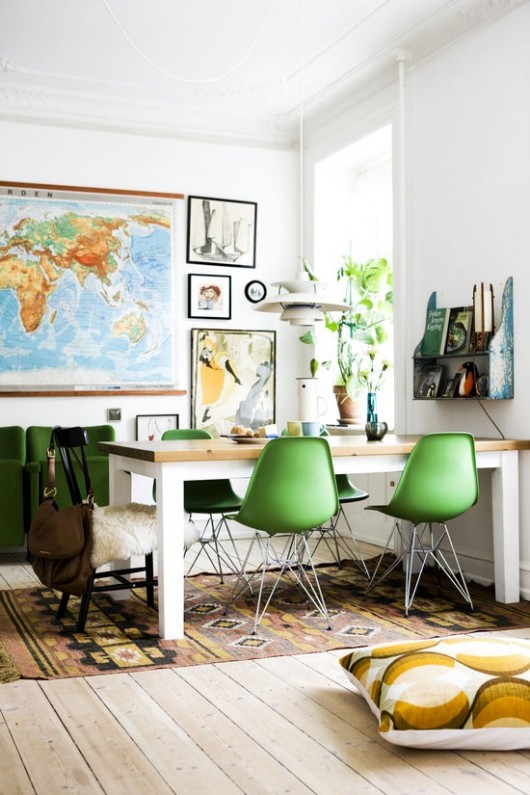 Photo by
Tia Borgsmidt
| Styling by Mette Helena Rasmussen | via
Nordic Design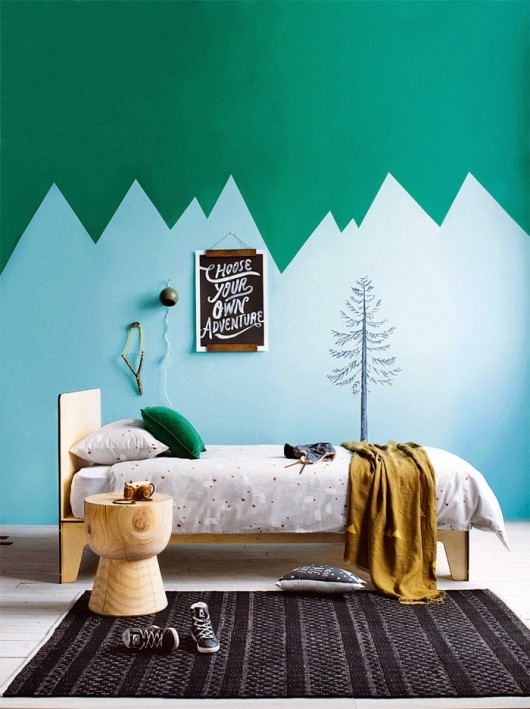 Photo by Amanda Prior | Styling by Jessica Hanson |
Inside Out Magazine
via
Poppytalk
How awesome is that Choose Your Own Adventure print? I hunted it down and it's available here, along with some other awesome artwork and home decor…great site! Anyone remember reading those books? I loved them and think this quote (which just happens to be one of Brad's favourites…he's got a lot of one-liners ;) is a good reminder that we're all capable of changing the course of our lives, one decision at a time. Here's another amazing print from Blacklist: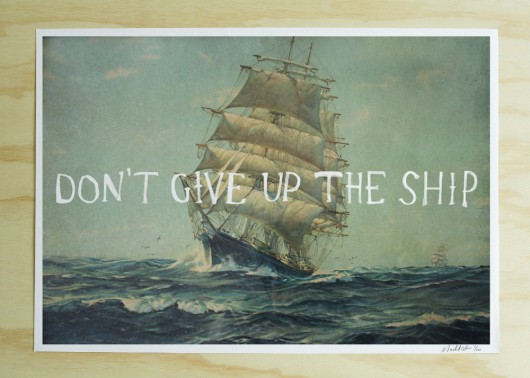 Don't Give up the Ship print by Blacklist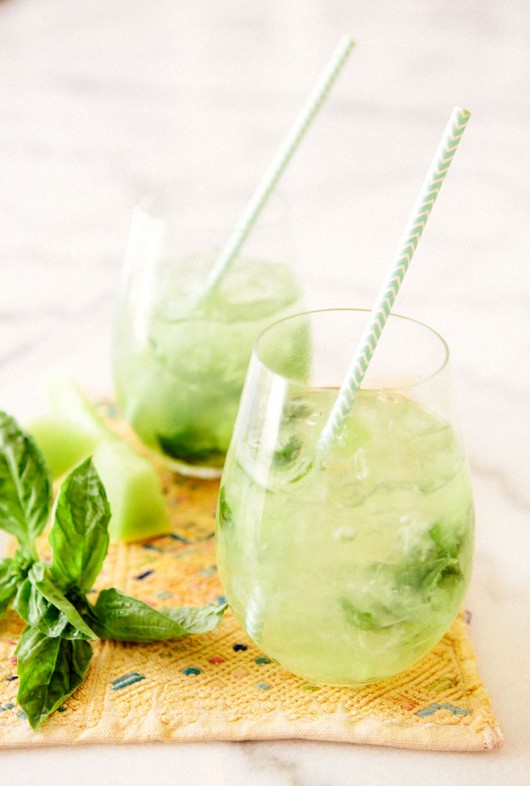 Honeydew Basil Spritzer | A House in the Hills
Mm, that cocktail looks refreshing doesn't it? Mondays should always require an early happy hour start time, just saying ;) Cheers to a good week ahead!

I'm late posting today but so it goes sometimes :) The weekend is officially here and although our sunshine is apparently going to disappear for a little while (boo!), I've got some bright inspiration and link love to share with you today:
1. Loving the combination of vintage and modern in this colourful vignette, not to mention that beautiful painting :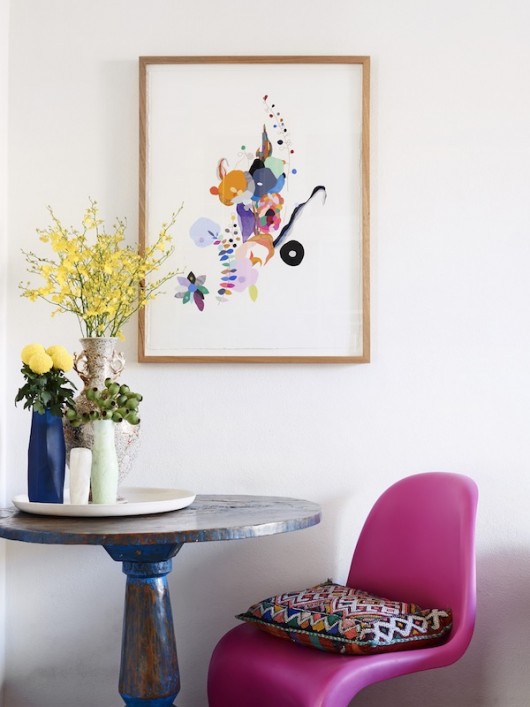 Photo by
Eve Wilson
| Produced by
Lucy Feagins / The Design Files
.
2. Laundry is my least favourite chore but how fun is this cheerful utility room? Check out the DIY vinyl tile flooring tutorial over at A Beautiful Mess: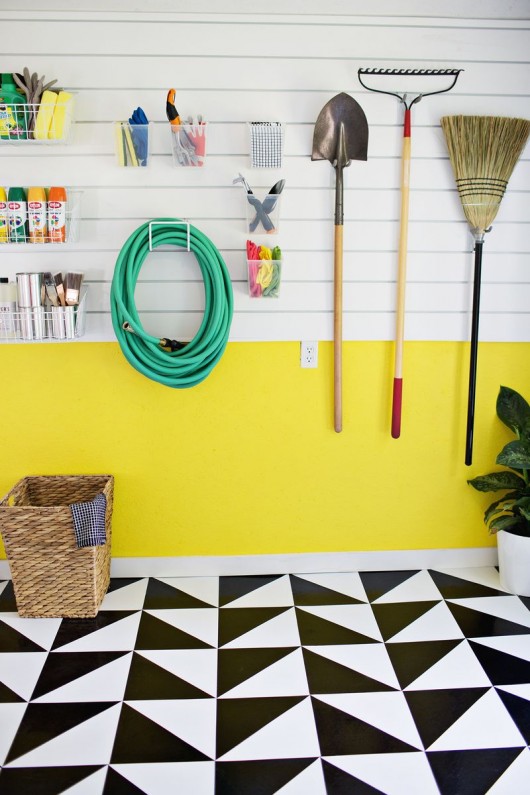 DIY vinyl tile floors by
A Beautiful Mess
3. Nothing says "party" like a good garland and these giant paper beads are pretty darn great…I don't think I'd ever take them down actually :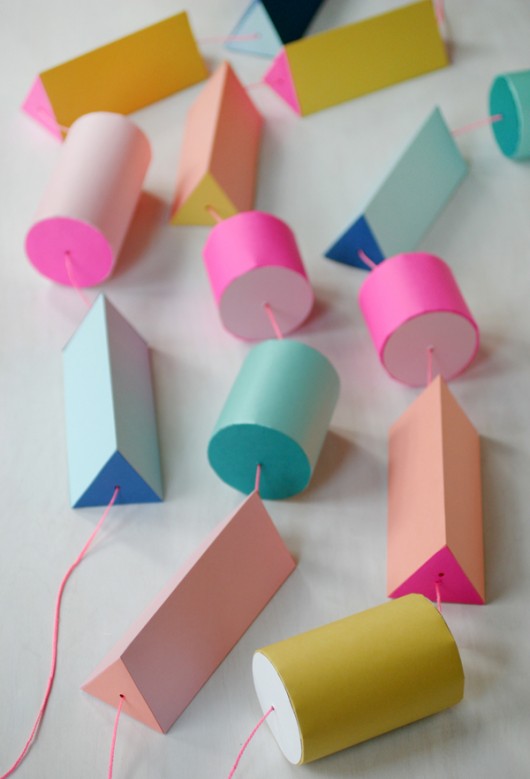 DIY Giant Paper "Bead" Garland by
Oh Happy Day
4. I love a good colour punch in an otherwise neutral space and these bold yellow chairs are no exception…they remind me of a modern take on old Sunday school chairs, no? :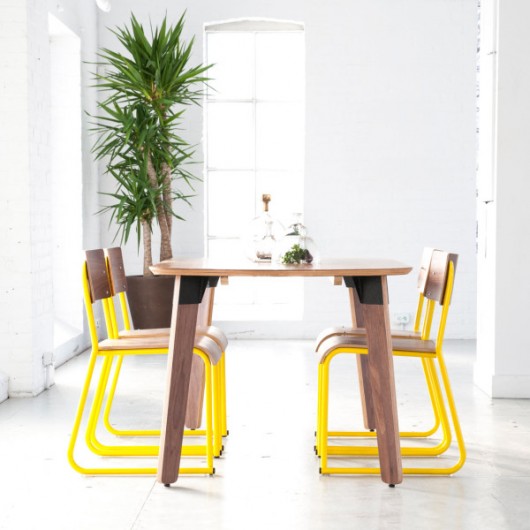 Gus Modern
via
Design Milk
5. It's happy hour somewhere, right? This trio of summery cocktails look too yummy not to try and I'm intrigued by the watermelon jalapeño comination: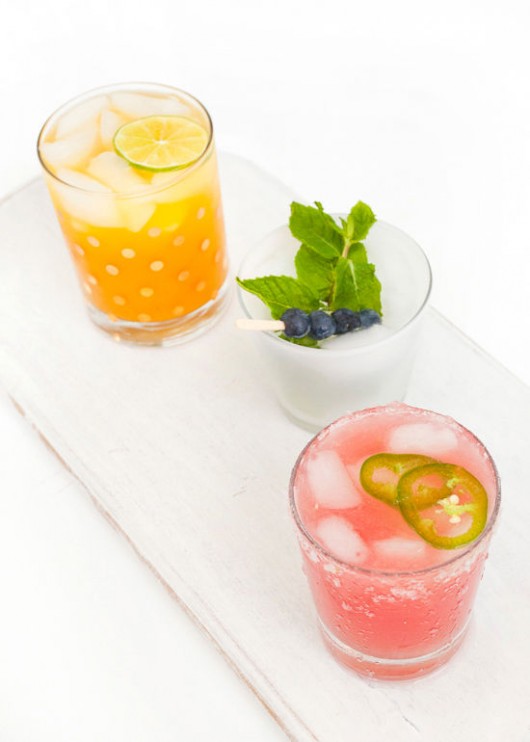 3 Fresh Holiday Cocktails by
Design Love Fest
We don't have many plans this weekend but will be hanging with some friends and hitting the beach (if the rain stays away) before bringing Gabe to camp on Sunday. What about you, any exciting getaways in your cards? Happy weekend!

Happy July to you! The sun is shining and it officially feels like summer here on the West Coast, hooray! I've been laying low the past couple of weeks while recovering from a surgery and I must admit it's been a lot harder being home and doing nothing than I thought it would be! I've read a couple of books as well as 3 months worth of magazine subscriptions, have caught up on all my favourite Netflix series' and streamed several others but my brain is feeling slightly numb from an over-indulgence in entertainment news and a serious Instagram addiction. Brad took time off work to help me out (thank goodness) and he's not one to sit still so got a great start on open shelves in our living room and backyard landscaping but it's been pretty frustrating to just sit back and watch! I'm resting lots and feeling more mobile every day and although I'll still be taking it easy for at least a few more weeks, I'll hopefully start phasing in a day or two very soon. Have any of you ever been physically forced to come to a full "stop" in life? It's been very good for me in a lot of ways and I definitely have a renewed appreciation (not to mention a very grateful heart) for good health. I have had plenty of time to browse for decorating inspiration for our new house and I can't wait to bring in some potted plants and florals, especially now that my get-well bouquets are starting to fade. They bring so much life to a room, don't you think? Here are some great floral looks, perfect for summer or all year round: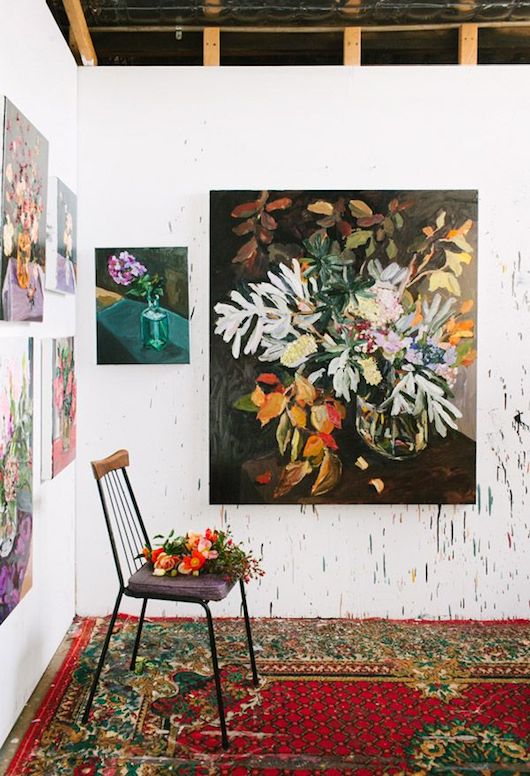 Artist
Laura Jones'
studio | Photo by
Rachel Kara
for The Design Files.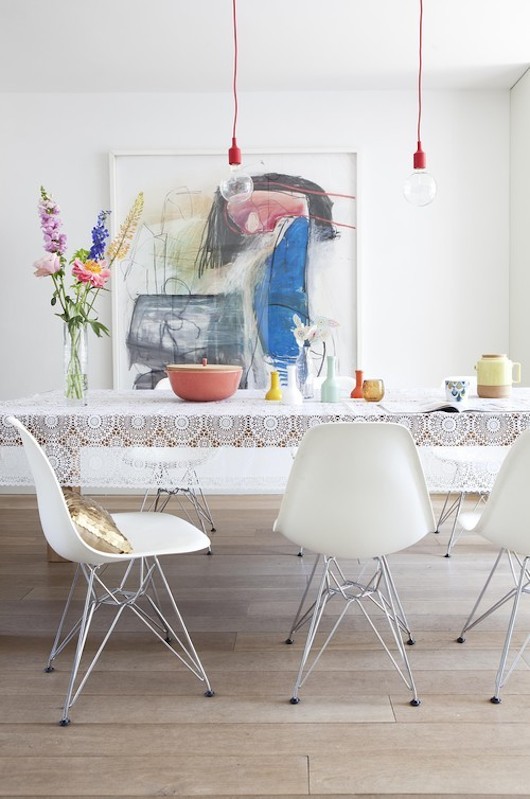 Gostco Design & Lifestyle
via
Vtwonen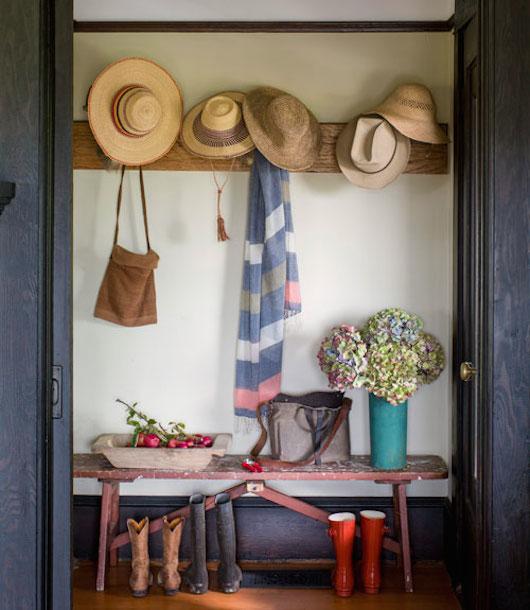 Photo by Helen Norman for
Country Living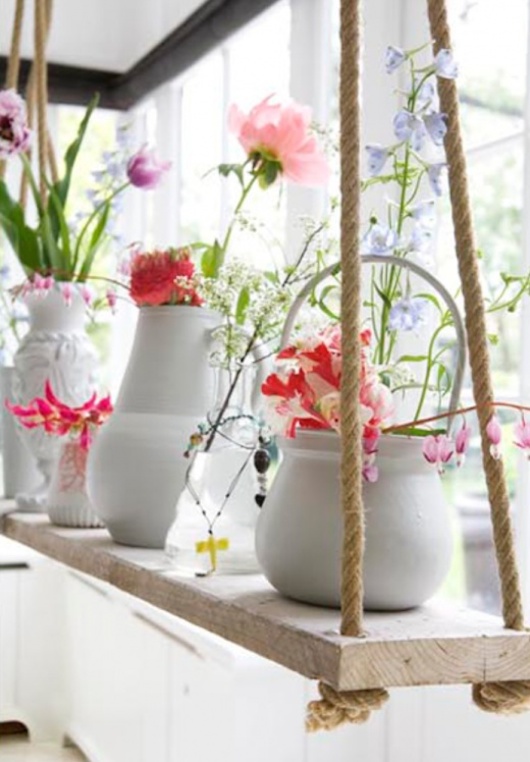 DIY hanging shelf |
Vtwonen
via
Poppytalk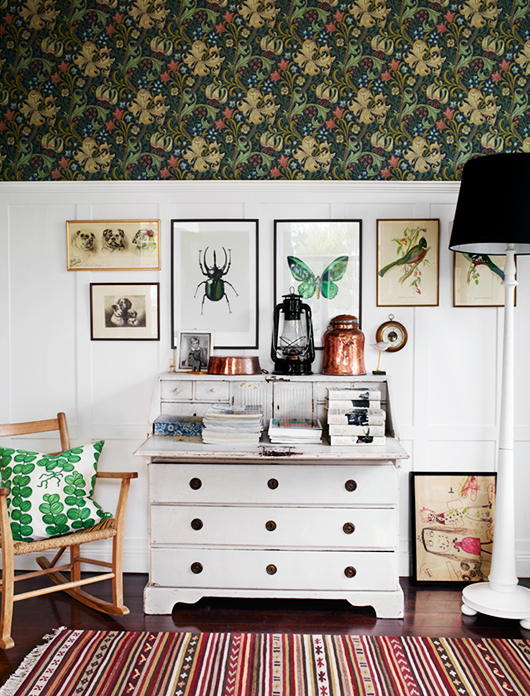 Photo by
Idha Lindhag
via
SF Girl by Bay
Pretty, right? I'm off now (slowly!) to meet up with my Spruce partners for our weekly meeting (which never feel like work, by the way!) before a couple of good friends come over for a quiet girls night tonight, can't wait! Being home so long with the family has been great but I'm definitely ready to shake off this cabin-fever and get back into the social swing of things! Hope you're having a great week so far and I'll be back to chat on Friday :)